Morels in the Grove
by Carolan Nathan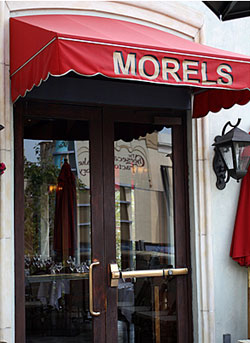 It seems everywhere we look nowadays, our eyes light upon a charming French style eaterie, usually simple as that is the underpinning of any bistro of repute. I, for one, am glad of this trend especially as so many French chefs are willing to stay true to their roots and serve delightful cuisine. Quite the opposite to the fancy hoo-ha of other chefs around town who keep trying to impress by mixing two, three and sometimes more cuisines for what I call confusion food – and just end up with dishes of unparalleled mediocrity in taste, although presentation might be eye catching.
At one end of town is Morels Bistro which opened quite recently at the Grove, that little piece of Disneyland set next to the Farmers Market. I must say Morels is quite chic, and really does achieve what it sets out to do – afford you the ambiance of a French bistro. I admit getting confused between a bistro and brasserie but I think this restaurant has incorporated the two, downstairs is the bistro and upstairs a brasserie style French steakhouse. Tucked away in the corner by the entrance is a glass cabinet filled with lots of French cheeses and some good ones from specialty farms in England too.
I opted to eat downstairs because I love the excitement of that busy place, walls decorated with lots of colorful artwork, a large sit-around zinc topped bar and the astute attention of manager, Sasha King. Sitting next to the full-length glass windows, I could see the comings and goings of the theatre crowd or watch people climb the curving staircase up to the elegant steakhouse where General Manager, Mr. Pearlstein, is a little more formidable.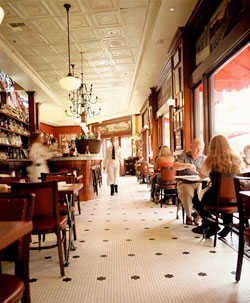 An attentive waiter informed me that they serve Hendricks Gin imported from Scotland and suggested I have it in my Gimlet cocktail. He went on to tell me that it has a faint overlay of peach and a hint of cucumber and rose petals. A most knowledgeable young man, and it was delicious. The Seasonal menu is large in size and in content, and it reminds me of the menu of a group of restaurants called Café Rouge in the UK where I often eat when in that part of the world.
Starting with Hors d'oeuvres, it goes on to Plats Principaux and Le Bar a Huitres which list some great choices like Malqeque Oysters, whole chilled Dungeness crab and small or grand Plates of varied Shellfish. You might start with a Mediterranean-style fish soup, well spiced with saffron, or a salad of curly endive lettuce with smoked apple bacon topped with poached egg and croutons. The Fondue of melted and imported Emmental and Gruyere cheeses with white wine and a hint of garlic and kirsch is a fun dish to order. Besides dipping little squares of bread with a two-prong fork into the bubbling cheeses, I loved making curlicues of cheese strands on the bread plate. Oh well I will grow up one day!
The Steak frites were literally some of the best I have tasted outside of Paris. And Philip and I always arrived early at Orly Airport on our way back to London so we could eat their chicken and chips (French fries/frites to you). At Morels the frites are perfect in size, taste and texture, crunchy on the outside, tender on the inner and dusted with just the right amount of salt. The meat is a lovely tender cut of skirt steak with a pat of parsley butter, which melts into the steak. Other choices include crepes filled with spinach and mushrooms in a cream sauce, and Alsatian flat bread with bacon and onions and sour cream.
Desserts include a really yummy Chocolate Souffle, one of the most perfect I have had since the demise of Bistro Gardens, and a very typical thin French Apple Tart with slices of tart apple baked in the oven with butter and sugar, placed on thin puffy pastry and served with caramel sauce and vanilla ice cream. I did not get to sample the mousse of dark French chocolate or a rather unusual Fruits Gratin where varied fresh fruits are mixed with whipped cream, egg yolk, powdered sugar and grand marnier then glazed under the grill. But I will when I return.
Utah


by

David Latt





Visiting Dinosaur National Park from Salt Lake City can certainly be done in a long day trip, but if you have more time, base your stay in Vernal with half a dozen comfortable, affordable motels,...

Read more...

Los Angeles


by

Laraine Newman





Clementine, the great west-side L.A. charcuterie has amazing candies, too...

Ok, so I love Shirley Temple. Anyone who thinks I'm a sap can eat me. She was a genius. There's never been a child...

Read more...

Southern California


by

Lisa Dinsmore





Though I'm not a betting person, I would have put my small stash of savings on the line if anyone had told me a year ago that I would become a seafood lover. While still not on the sushi...

Read more...

Los Angeles


by

David Latt





Huckleberry, Sweet Rose Creamery and Rustic Canyon touched a foodie sweet spot with locals in Santa Monica and West Los Angeles. Husband and wife co-owners, Josh Loeb and Zoe Nathan proved again...

Read more...