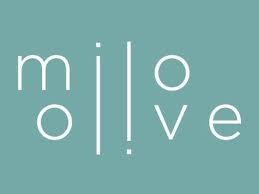 Huckleberry, Sweet Rose Creamery and Rustic Canyon touched a foodie sweet spot with locals in Santa Monica and West Los Angeles. Husband and wife co-owners, Josh Loeb and Zoe Nathan proved again and again that they understood what the upscale community wanted: farmers market fresh food served in casually artful settings.
Mid-range pricing means they can afford to use high quality ingredients and indulge their flair for visually engaging food. Walk past Huckleberry's bakery display and you'll be hard pressed not to take a photograph. The scones and muffins are gorgeous.

Their forte is creating exceptionally well-prepared comfort food.
That is definitely the focus of their newest restaurant and bakery, Milo & Olive (310/453-6776) located at 2723 Wilshire Blvd. at Harvard on the eastern edge of Santa Monica and open for breakfast, lunch and dinner, 7am-11pm.

According to Loeb, they hadn't planned to open another restaurant.

What they needed was more bakery space. They took over 2723 Wilshire because, Loeb explained, "we needed space for our bread production. Then we thought we'd sell pizzas in front."

Which explains why the dining room occupies only a third of the space. With a total of 24 seats (8 at the bar and 16 at 2 communal tables), Loeb expects "50% of the business to be take out because the dining space is so limited."

Given the tight quarters, waitstaff and customers have to say "excuse me" a lot as they move around the dining room.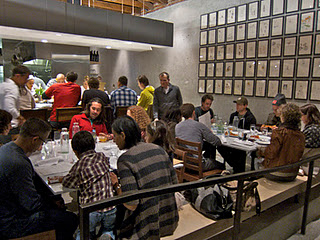 Even with the space constraints, the restaurant works very efficiently. The only slow down happened when a lot of take-out orders hit the kitchen. Customers are urged to put in their entire order so the kitchen can pace itself.

To make children feel at home, as they are seated they are offered brown paper bags to decorate with crayons.

The evening we had dinner the blustery Santa Ana winds had died down, leaving behind a cold chill in the air. When the nights are cold, I'd recommend wearing a jacket because the glass fronted entrance of the restaurant opens directly into the dining area.

Adhering to a no-reservations policy, seating is first come, first serve. You check in upon arrival and wait inside along the glass wall bordering the street. You can order beverages while you wait, spend your time studying the menu, catch up with friends or simply stare at the incredible display of baked goods.

The croissants, muffins, sweet rolls and breads have ceiling lights shinning down on them, giving the culinary stars their moment of stardom before being consumed.

Communal tables aren't everyone's cup of tea.

But the experience can be a lot of fun. Like a dinner party for strangers, we ended up talking with four different groups of people. Maybe it is a sign of the times or a reflection of the demographics of the neighborhood, but everyone at our table was a foodie.
The result was a lively conversation about other restaurants and how they compared to Milo & Olive. Pizza, like hamburgers and barbecue, evokes passionate responses. Our table had lots of opinions about their pizzas, which included a margherita topped with a sunny side fried egg (a $3.00 add-on), crispy pepperoni and mixed mushroom.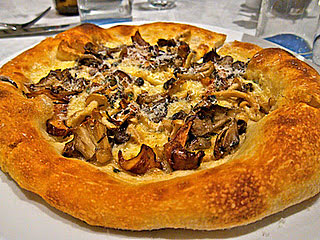 The consensus at the table was that the mushroom pizza was a hit with its mix of crispy chanterelles, maitake, beech and oyster mushrooms paired with comforting melted Fontina cheese on the chewy dough. A sprinkling of shaved Parmigiano Reggiano added the right amount of bite and saltiness.
If you aren't into pizza, you'll still have a lot to choose from at Milo & Olive.

The paired down menu has salads, vegetable sides and a selection of meats and seafood, including a branzino ceviche, fried squid and a ragout of mussels, clams and shrimp as well as several dishes with anchovies.

Meat eaters couldn't go crazy but can order chicken meatballs, sausages and cannellini in beans in broth and braised beef short rib with grits and greens.

Lovers of vegetables will find themselves well-served at Milo & Olive.
Our fellow diners were full of praise for the roasted seasonal vegetables, the marinated green beans with a generous portion of Drake Family Farms goat cheese, the roasted pumpkin in brown butter and sage from McGrath Farms and the mix of lettuces from Coleman farms that arrived piled high on the plate with avocado, pomegranate and pine nut gremolata.

The majority of the pizzas were vegetarian although, again, meat eaters would find enough to keep them happy with the anchovy, pepperoni and pork belly sausage pizzas.

Most dishes cost $10.00-$15.00. Occasionally a dish struck some at our table as exceptionally small like the $15.00 Aqua Pazza, a petite cast iron dish with mussels, clams and sweet shrimp in a white wine-garlic sauce, accompanied with several slices of grilled bread. The comment was "delicious but on the small side, kind of a tease."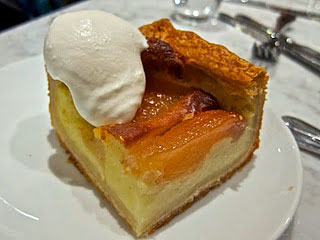 The pizzas are medium sized with 4-5 slices. The ones served at our table were quickly devoured and pronounced as exceptionally good.
As you would expect from Zoe Nathan, the desserts were beautiful and delicious. A poached pear tart with tall flaky crust was very good, as was a lemon curd with mandarine orange sections. A chocolate chocolate tart and a ginger walnut cake were also available.
Designed as a casual neighborhood hangout, where you can drop by to pick up a take-out order or stop by for a glass of wine or beer, a salad, pizza, dessert and coffee, Milo & Olive is a terrific addition to the West Side dining scene.
David Latt is an Emmy-award winning television producer who turns to cooking to alleviate stress. He shares his experiences with food and his favorite recipes on his blog Men Who Like To Cook.