Joe's Restaurant
by Amy Spies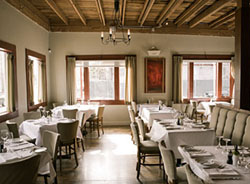 Joe's restaurant on Abbot-Kinney in Venice, California is a delight and a deal. Michelin thinks so, having just given this French-California gem a star. And my entire family agrees, and we are not always the most agreeable foursome. Our recent love affair with Joe's began when I took my husband there for his birthday lunch several weeks ago. A friend joined our table. We ordered from a three course prix fixe menu that ran about $17.00. There was also a two-course lunch with many choices that was much cheaper. The dishes were innovative and fun, reminiscent of my favorite French or Bay Area menus (Larkspur Inn, Aqua, French Laundry). Even the bread was incredible. The service was great and, important to me, flexible and easy.
The only attitude I got was 'comme vous voulez' in spirit. I had a wonderful Basil Gnocchi with Fresh Gulf Shrimp, just the right amount of Shiso-Snap Pea Puree, Zucchini, Cherry Tomatoes, Radish & Fennel Salad. I'm totally a 'Sally' of 'When Harry Met Sally' fame type orderer in restaurants (i.e. wildly high maintenance to the point of ordering spaghetti bolognaise without the spaghetti but with broccoli underneath); but at 'Joe's', I wisely if uncharacteristically decided to let the dishes come to me as they voulez-ed. I was rewarded; this restaurant knows its stuff, has every detail nailed without being fussy. My husband's Grilled Fijian Escolar with Spring Onions, French Green Beans, Hon Shimeji Mushrooms, Miso Yogurt Broth was moist, excellent, and subtle. The chocolate crunch cake and caramel cookies desserts were as tasty and the portions as generous as the main courses.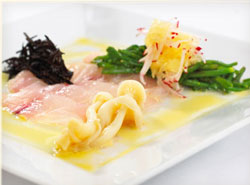 My husband's friend insisted on picking up the check and couldn't believe it was accurate---it was soooooooo cheap for such amazing food and elegantly relaxed, beachy, cool but not full of itself at all atmosphere.

My family ended up back there last weekend for a post-Thanksgiving, can't-stop-the-eating Saturday brunch. The joint was jumpin' because of the Michelin star, but the service was as warmly wonderful as the first time. My fourteen year old is still talking about how incredible her salmon dish was, accompanied by wasabi mashed potatoes. My older daughter knows her home-made granola and thought Joe's matched up, as did her smoked trout/poached eggs/hollandaise dish. I loved my eggs with smoked salmon and caviar over a potato. (Again, I'd been tempted to lose the potato, but ended up going with their flow and was glad I did.) The bill was as reasonable as the time before. The next day, after taking our older daughter to the airport, we almost ended up back there for lunch! As my husband said, we could just park ourselves there in the morning and stay all day and night. And every member of our not-usually-so agreeable family agreed.
Joe's Restaurant
1023 Abbot Kinney Boulevard
Venice, California 90291
310.399.5811
New England


by

Lisa Dinsmore





I've probably driven by this unassuming breakfast/lunch spot hundreds of times. It's in my hometown of South Hadley, Massachusetts, located in "The Flats", which was a section of town we drove...

Read more...

Southern California


by

Eduardo Santiago





I've always had a strange relationship with The Wedge. I see it on the menu, I want it, I plan to order it and then I change my mind. I'm always afraid that I'm going to get stuck with a chunk of...

Read more...

Europe


by

Bruce Cormicle





Dateline 2011: San Sebastian, Spain – 3 Star Michelin "Arzak"
(Number 8 in the Top Fifty Restaurant's of the World poll)

God may have texted Noah to board the Ark with his family, seven pairs...

Read more...

Los Angeles


by

Charles G. Thompson





In many places in the world a bakery is often the nexus of a neighborhood. A place where the locals meet to buy baked goods and bread. Bread, the so-called 'staff of life,' is inexpensive...

Read more...