Joan's On Third
by Amy Ephron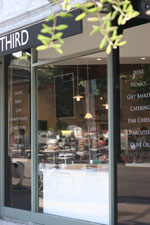 Artisan cheese in the display case, turkey meatloaf you wish you could make at home, fresh lemonade that's just the right amount of sweet and sour, strawberry jam for sale on the shelf, Nicky (and Paris) Hilton at the back table but nobody cares because the Chinese chicken salad is perfect and everyone else has too much to do. Did I mention the cupcakes?! It's the perfect place to stop when you're busy, when you barely have time for lunch, but it's also, the perfect place to hang out.
Joan McNamara originally opened on this same spot as a catering shop but people kept coming in hungry -- and because she's Joan, she'd drop everything and make them something to eat -- so, she finally caved and opened it as a restaurant. They've been open for lunch for years, but since a good thing is hard to keep down, she's rented the storefront next door and as of last week, they're, also, happily open for breakfast.

The original space is crowded and cramped and works like a New York charm, right dead in the heart of West Hollywood. The new breakfast space is a little more open, as if you're in somebody's great kitchen in a millhouse in France. The omelettes are perfect, a little bit soft, the pancakes are light and fluffy. Order and pay at the counter and your food will be brought unceremoniously to your table. The service is hardly cloying but you always feel, if you really want something, you just have to ask for it. The gleaming counter, the white tile floor, the hustle and bustle are all reminiscent of Joan's New York roots and that funny feeling you can't shake, that smart people eat here. -ae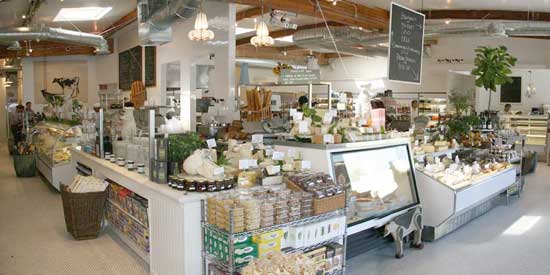 Joan's on Third is located at 8350 West Third Street (between La Cienega Blvd. and Fairfax Ave.) in Los Angeles.
Boston


by

Lisa Dinsmore





There are people who, when on vacation, go wherever the road takes them. I am not one of them. If I'm going somewhere new and only have a few days to explore a place, I'm going to find the best...

Read more...

Georgia


by

Rachel Parker





It has been weeks since I ate breakfast at Ria's Bluebird, but the place and the food keep nudging me. If you're in Atlanta, the drive to Ria's is towards downtown, to an industrial area that's...

Read more...

San Francisco


by

Scott R. Kline





Redrum Burger in Davis, CA sits catty-corner to an In-N-Out Burger just off the freeway. Redrum was there long before In-N-Out and judging from the line at lunch time on a recent Thursday, they...

Read more...

Los Angeles


by

Lisa Dinsmore





Los Angeles is a very large and fractured city. Most people, myself included, tend to play where they live because commuting is such an unknown quantity. Sure you get used to leaving yourself...

Read more...