Hatfield's
by Juliet Seniff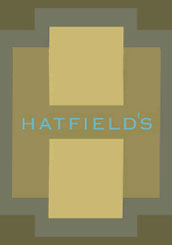 Marriage is a beautiful thing: the union of two people who perfectly complement one another. So be it with food. And what better way to appreciate them both than at Hatfield's, an epicurean labor of love for husband-and-wife chef team Quinn and Karen Hatfield.
Due to both poor time management and navigational skills, we arrived unfashionably late on a Friday night. Despite our tardiness, we were graciously welcomed like old friends, albeit old friends who are known for being late. Bourbon, lemon juice and prosecco played nice (for once) in the perfect, pre-dinner French 95 cocktail. Flaky cheddar biscuits were served with perfectly spread-able butter, and it is well known that butter serving temperature is an art form not easily mastered. By the time our delightful amuse bouche of quail eggs and parsnip soup made its way over, we knew we'd be back.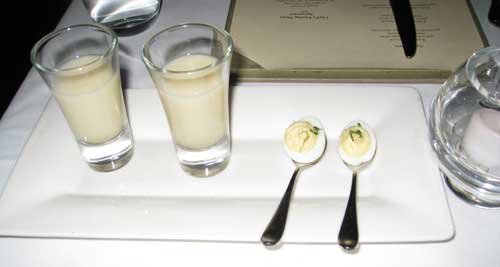 In his quarter-life quest for independence, my friend Cory brought his own pinot noir. Although equally impressed by an extensive wine selection, the pinot was the perfect complement to our red meat agendum. We opted for the daily market menu: the all-inclusive resort of any fine dining experience. A flavorful, crunchy salad, a magnificent skirt steak seasoned with spicy mustard. But even the sexiest skirt steak pales in comparison to Hatfield's pièce de résistance: an apple and brown butter pecan crumble served with crème fraîche. The sensory experience alone can never be replicated, and to be honest, I feel a twinge of guilt just recalling this dessert. A result of my Midwestern heritage, I've always possessed deep appreciation for the apple tart form. And side by side, Mom's homemade apple crumble positively crumbles next to pastry chef Karen's heavenly incarnation. Mom, please forgive me.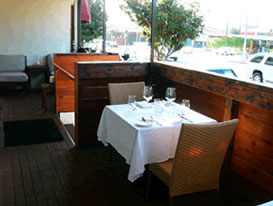 Hatfield's décor is thoughtfully sparse. Bare walls and simple lighting fixtures never looked more refined. The wrap-around porch hugs the slight dining room, and through small country windows allows patrons to enjoy both the inside and outside ambience.

A genuine warmth and familiarity balanced the poised, professional service. And Friday night never tasted better.

Hatfield's
7458 Beverly Blvd, Los Angeles, CA
http://www.hatfieldsrestaurant.com
Please note that it does not seat parties of more than 5


Juliet Seniff hails from East Lansing, Michigan, and has lived in Florence, Seattle and New York City. She currently lives in Los Angeles and works in the film industry.
Arizona


by

Susan Russo





Four years ago Jeff and I took a memorable road trip through New Mexico and Arizona on the way to the Grand Canyon. I don't know what I loved more, the awe-inspiring landscapes or the...

Read more...

Texas


by

David Latt





Treat yourself to the pleasures of well-prepared meals in comfortable settings by starting at the Driskill Hotel, centrally located at the corner of Brazos and Sixth Street. For dinner, the

Read more...

Northern California


by

Laraine Newman





I recently performed Celebrity Autobiography at the Wells Fargo Center For The Arts in Santa Rosa. I didn't know where Santa Rosa was nor did I realize that the Welles Fargo Center was a hip...

Read more...

Los Angeles


by

Laraine Newman





Clementine, the great west-side L.A. charcuterie has amazing candies, too...

Ok, so I love Shirley Temple. Anyone who thinks I'm a sap can eat me. She was a genius. There's never been a child...

Read more...