Bastide, in a class of its own
by Irene Virbila
Under chef Walter Manzke, the Melrose Place restaurant's third incarnation is quite the experience.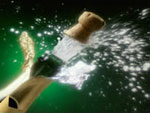 The blue door, shuttered for more than a year and a half, is open once again, and the stage is set for Act 3. Step in, and you're welcomed with the offer of an aperitif in the enchanting garden where a pair of gnarly olive trees cast lacy shadows on the wall, water falls into a basin, and the air is scented with lavender.

Order Champagne and the sommelier waltzes over with a double magnum of vintage Champagne one night, pours an unusual Sacy rosé another time. You might be served breadsticks with transparent gold potato chips and spiced nuts or slender, cheese-laced churros that taste like New World gougères. The effect is somehow so civilized, you find yourself relaxing into another rhythm.

Bastide is back.
Read article in the Los Angeles Times...
San Francisco


by

Melanie Chartoff





It's so darn good to get awaaaay. I'm bored with the predictable patterns of my home life: my constant computer, my cooking, my own backyard. My brain craves novelty, my tongue new tastes, my...

Read more...

New York


by

Michael Tucker





I had one of the top ten dishes of the year today in the middle of what could have been a dreary day. It was raining and I was limping around puddles on my way to a lunch meeting in Soho.

I had...

Read more...

Los Angeles


by

Robert Keats





Dinner at a great restaurant is like jazz music. The Duke Ellingtons, Count Basies and Billie Holidays of the culinary world perform their signature genius through improvisation.

Such is the...

Read more...

Los Angeles


by

Lisa Dinsmore





My husband and I are lovers of the grape, so we rarely indulge in hard alcohol, especially since it's usually more costly and the bars in Los Angeles don't exactly cater to our age range. It's...

Read more...