Bastide, in a class of its own
by Irene Virbila
Under chef Walter Manzke, the Melrose Place restaurant's third incarnation is quite the experience.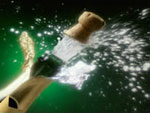 The blue door, shuttered for more than a year and a half, is open once again, and the stage is set for Act 3. Step in, and you're welcomed with the offer of an aperitif in the enchanting garden where a pair of gnarly olive trees cast lacy shadows on the wall, water falls into a basin, and the air is scented with lavender.

Order Champagne and the sommelier waltzes over with a double magnum of vintage Champagne one night, pours an unusual Sacy rosé another time. You might be served breadsticks with transparent gold potato chips and spiced nuts or slender, cheese-laced churros that taste like New World gougères. The effect is somehow so civilized, you find yourself relaxing into another rhythm.

Bastide is back.
Read article in the Los Angeles Times...
Las Vegas


by

Lisa Dinsmore





Vegas. Why'd it have to be Vegas? I happily avoided going there for about 8 years. No real point since I don't gamble. Might as well just burn your money, since you're not going to win. What else...

Read more...

Ohio


by

Nancy Ellison





(Well two, if LeBron James leaves.)

While a little disappointed on a recent trip to this town by the pizza-by-the-slice on Mayfield Road ("Our Little Italy is better than your Little Italy"), we...

Read more...

London - British Isles


by

Laura Johnson





Read more...

Northern California


by

Maylynn Morales





It was my 33rd birthday and I decided to treat myself to a nice trip to Sonoma Valley. Some call it the "Jesus year", but I like to call it another excuse to play in wine country! With all the...

Read more...