Bar Chloe
by Maia Harari and Anna Harari
It's sort of hidden. You can't see it from the street and it's beneath a hotel that doesn't seem nearly as nice, the Hotel Carmel, that is. It's called Chloe, the Westside complement to Laurie Mulstay and Ron Marino's stable of hot spots which include The Bar and Magnolia. And it's not quite full. But it's elegant, and hip, and calming in a way that makes you think you could go there to meet a business associate or a bed mate, and either would be a success.

The Pimm's cup is the refreshing favorite. And the Lavender Gimlet is like a perfumed elixir that I swear makes you more beautiful with every sip. Order the blue-cheese stuffed, bacon-wrapped dates. They taste like candy but aren't too sweet (I have high standards for too sweet, just warning you). And the crispy artichokes are perfect for sharing, perfect for dipping, and perfect for savoring. It's the kind of menu you want to get lost in, sampling all the deliciously rich small plates and perfectly mixed martinis until before you know it, you've blissfully lost track of time and drifted into some infinitely more glamorous, bygone era.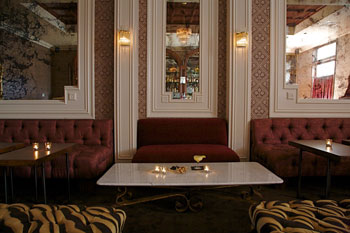 Bar Chloe
Mon-Sat 5pm-2am
1449 Second Street
Santa Monica, CA 90401
(310) 899-6999
Los Angeles


by

Jo Stougaard





Twenty years ago when I lived in San Diego, my ex-husband and I loved eating at Karinya Thai Cuisine. The restaurant was up the street from our home in Pacific Beach, and it was our "go to"...

Read more...

New York


by

Michael Tucker





The Big Dog and I lunched this afternoon at Ai Fiori, The Big Dog is my high-priced attorney. We were discussing some ultra-subtle legal maneuver that could only be fully investigated in a very,...

Read more...

Boston


by

Kitty Kaufman





Here's how Dilusha and I decide where to go. She sends a text, "I'm hungry, let's eat," and then I have to find the place. We always get lucky in Cambridge and so we did at Russell House for...

Read more...

Washington, DC


by

Alan Sandler





It was the best of climes…it was the worst of climes. Well, perhaps not either, but pretty damn cold.

A winter meeting in Washington: five days, four nights, and four dinners to review…

With the...

Read more...