Baby Blues BBQ
by Telly Kousakis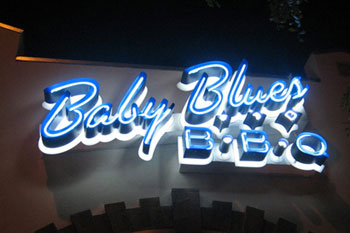 After a screening of the frightening (and somewhat hilarious) Paranormal Activity my pals and I wanted to grab a drink and maybe some chow. Three of us, on separate occasions, by different people, had Baby Blues BBQ recommended to us.
This is a place with a great vibe and some pretty delicious BBQ. We all chatted and laughed over a few beers, some sloppy ribs and crumbly delicious cornbread.

I opted for The Deuce, which is a platter consisting of 1/2 a rack of Memphis style ribs, 5 of their BBQ shrimp (which were recommended to our table by some random cook who came out for no reason other than to tell us we should order the shrimp - they were delicious), cornbread and my choice of two from an extensive list of "fixins". It reads like a who's who of barbeque: collard greens, potato salad, baked beans, mac 'n' cheese, okra - fried and sauteed, mashed potatoes, stewed tomatoes, pork 'n' beans, etc. I opted for cole slaw and fried okra. At $22.95 this wasn't such a bad deal.
Top marks went to the honey butter - yes, HONEY BUTTER, that was served alongside the cornbread. It was a true showstopper. I also really appreciated that each table was equipped with its very own roll of paper towels. Not napkins. Paper towels.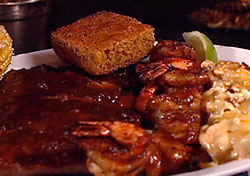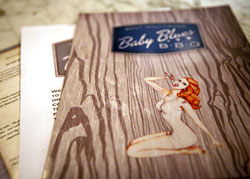 Also published on Telly Says "Eat Me!" one snarky boy's ongoing love affair with food: <http://tellysayseatme.blogspot.com"
Los Angeles


by

Irene Virbila





Under chef Walter Manzke, the Melrose Place restaurant's third incarnation is quite the experience.


Bastide is back.

Italy


by

Rachel Rader





I just spent my first night in Rome and wanted to share my dinner from last night. It was at Al Duello, a place a friend recommended. It was absolutely incredible.

It's a cute little place off a...

Read more...

Chicago


by

Lisa Dinsmore





I love the fact that my husband is from a different part of the country than I am. Before I met and married him, my experience of America was limited to either coast. Now, every year, I get to...

Read more...

Los Angeles


by

Laraine Newman





I slept with Hannah last night and it was like being 13 all over again. Although I think our combined ages when we do that amounts to about 10. "Quit tickling me!" "I'm not Mom." "Are too!!"...

Read more...