The Smuggler's Speciality Restaurant
by Laura Johnson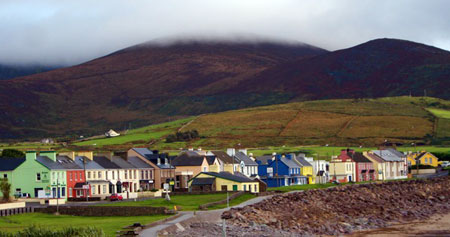 One of my favorite bites of 2009 was a bit of a trek, which is most unfortunate because if I lived nearby I would be a regular. I'd eat there so often they'd probably have to name a table after me. The last time I was there I ate the perfect meal and as simple as it sounds, it's impossible to replicate. Scenery and location are always a bonus and The Smuggler's Speciality Restaurant could qualify for a memorable meal for those reasons alone.
"Smuggler's" as the locals call it, is in Waterville, Ireland at the end of the Ring of Kerry. It's not fancy, inside or out, but it doesn't need to be. It sits on Balliskelligs Bay where the mountains meet the sea and every table has a view. I had been there many years ago and when my best friend Missy and I decided to drive the countryside of western Ireland for a week in September, Smuggler's immediately came to mind. I love their logo "The fish is only fresher if it's in the sea." And I love the directions they give on their website, "One mile from Waterville on a sandy beach."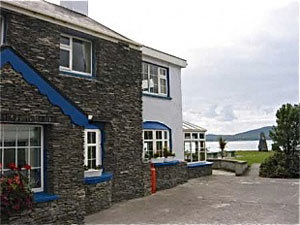 Our waiter was charming. It didn't hurt matters that most of the other patrons were golfers playing Waterville Golf Club down the road. He scored the table with the only 2 girls in the restaurant. We weren't sure what to order but our waiter was sure what we would like. I caught the part about the fish and mussels he described in his Irish accent with every 3rd word being Gaelic. We said yes to whatever it was he wanted to bring us. He brought us a glass of wine (which he also knew we wanted) and told us we should go outside to the beachfront terrace and enjoy the view. I hoped the service would be slow as it was a stunning place to watch the sunset.
Our first course was 'fried shrimp,' which was Dublin Bay prawns fried in ketaifi pastry with a port wine reduction served on baked goat cheese with lemon mayonnaise on the side. I voted to cancel the rest of the order and bring 3 more plates of the fried shrimp. I'm glad I didn't because everything else was equally gastronomic. Bantry Bay mussels with white wine, garlic and fresh local herbs melted in my mouth, nothing chewy about them.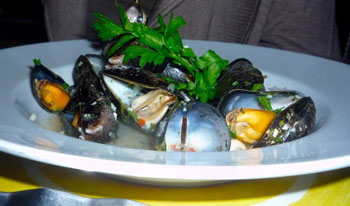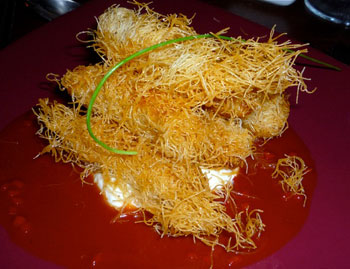 For our main course we had grilled local Black Sole which was served with thin slices of grilled grapefruit and local herbs, perhaps the best fish I've ever had in my life. Yes, I said life. This was served with ' golden mashed Irish potato,' which had the creamiest texture and most delicious flavor. The vegetable ragout was excellent but by this time we had given up trying to figure out how some 'fried shrimp, mussels, a piece of fish, potatoes and a side of vegetables' could be this good. We had been questioning our waiter, desperately trying to figure out how we were going to go home and replicate all this. But when he brought the warm sticky toffee pudding that was it, we gave up. Instead we decided that we'd have to make this a yearly event.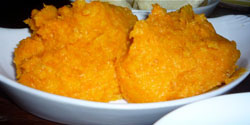 Smugglers Inn
Cliff Road, Waterville, Kerry, Ireland
Contact: Lucille Hunt
National 066 9474330
London - British Isles


by

Ilene Amy Berg





What is it with all the Queen's men? In an earlier piece on great sandwiches in London, I mentioned my British friend Craig, who now lives in LA and told me "there are no great sandwiches in...

Read more...

Washington


by

David Latt





On a recent food tour of Spokane and Northern Idaho, enjoying the beautiful scenery with clear running rivers and crystal blue lakes, I discovered a handful of restaurants that are living up to...

Read more...

Texas


by

David Latt





If you're in Texas, you'll be tossing your fears about high cholesterol levels out the car window. This is cattle country, after all, and nothing is as good as a steak cooked on a hot-as-hell...

Read more...

Los Angeles


by

David Latt





Living in Southern California, we enjoy rich ethnic diversity. Those of us who explore culture through cuisine are very happy about that. Located in West Los Angeles, Yabu, which has a devoted...

Read more...