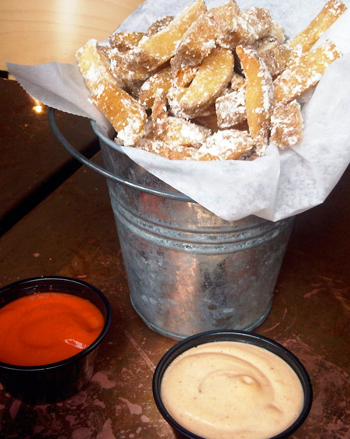 I can't believe I'm actually writing this. Man, does time fly. While 2009 was the year I expanded my food palate, I'd have to say my most memorable bites of the last year were ones that put a twist on old favorites...making me appreciate them again in a whole new way. Some are fancy, but most were just damn good, simple comfort food that let the best ingredients speak for themselves. Just looking at the photos I can still taste them all....and want them all over again.
Bacon Dusted Fries from Nosh Kitchen + Bar – Portland, Maine

Yes, I am serious. These were the most memorable things I put in my mouth all year. Why? Because who doesn't love French Fries and yet, this version took them to a whole different level. We decided to share the bucket since we were each eating a sandwich as well, but the minute I put one in my mouth I wanted to bogart the whole thing. Or order another round. We restrained ourselves, but just barely. I don't know how they make bacon dust (it looked like powdered sugar), but I applaud whatever process brought it into the world. I never thought French Fries could be improved upon, but I was wrong.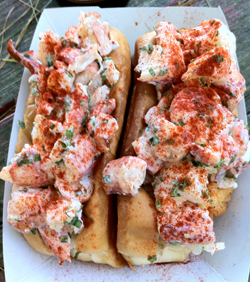 Lobster Roll from the Green Spot – Waterville, Maine

Seafood is my last food holdout. It's just not something I've quite developed a LOVE for, but when you go to Maine you MUST eat at least one Lobster Roll and if you have to choose just one, it should be prepared by the lovely Athanus sisters who run this farmstand/wine shop/market. Everything is made by hand by them from salsa to salads to jams, chutneys, relishes, meatballs. You name it they probably have it, as long as it's fresh. But they're only open from April through Columbus Day, so if want to experience this rich, perfectly-prepared sandwich with the best lobster and grilled roll you'll have to plan accordingly...and bring cash. They are old school in the best possible way.
Black Foie Gras Croque Monsieur from LudoBites 4.0 – Los Angeles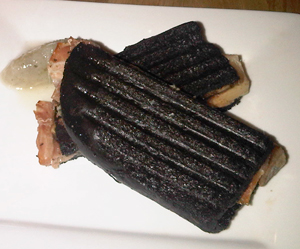 The winner for the most decadent, yet homey item has to be this classic sandwich with a super indulgent twist. I guess it debuted at an earlier LudoBites incarnation and was so requested, he decided to return it to the menu for this go-around. (Chef Ludo is generally not a fan of repeats). Made on Squid Ink bread, thus the black color, its appearance is a bit of a shock...and so is the first bite. Intense, crunchy, gooey, salty, meaty, cheesy goodness. It's so rich half of the sandwich was more than satisfying, especially if you had several more plates to go like we did. We added some of his Smoked Lardon butter to the mix (it was so good we couldn't let it go to waste), which put it truly over the top. Now I know why everyone begged to be able to eat it again...and I wish I could.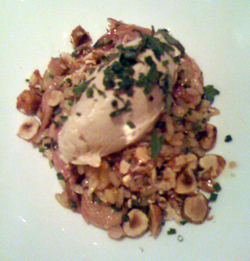 Duck Rice with Whipped Foie Gras and Toasted Hazelnuts from The Custom House Tavern – Chicago

I have to thank Yelp for leading us to this restaurant and this dish. Though I guess it's no longer on the menu since Chef Aaron Deal left the restaurant this past June, about a month after we ate there. Sorry to tease, but it was the best version of fried rice I've ever eaten. The duck and the foie (which melted into the rice imparting its flavor over the whole dish) was a marriage made in heaven with the hazelnuts adding just the right touch to the texture and a bit of extra smokiness that we just loved. After the first bite, I was sad I had to share. A rich, indulgent dish that left us wanting more and licking the plate clean. Sigh. Guess there won't be any seconds.
Lobster Risotto from Brothers Restaurant at Mattei's Tavern – Los Olivos, CA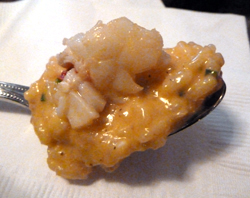 Like I stated in the beginning, most of my best bites aren't unusual or exotic, just classic dishes done to perfection. The brothers of the title are Matt and Jeff Nichols who have been cooking together since 1996 and who brought their cuisine in 2002 to Mattei's Tavern, a historic stagecoach stop that's been continuously operating since 1886. I have been to their restaurant before in my jaunts threw the Santa Barbara wine country, but just recently had the chance to try their risotto along with many other of their signature dishes. While they were all good, the risotto just blew us away. Every ingredient was cooked just right, making me rethink my aversion to seafood with another amazing dish of lobster. I know most people love the stuff, but like all great food it takes a deft hand to make it sing. It's not always on their regular menu, but you can get the recipe in their new cookbook called Brothers Cuisine. A must-stop dining experience if you're in the neighborhood.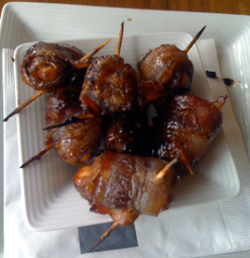 Smoked Bacon-Wrapped Dates from Watermarc – Laguna Beach, CA

I know you can't really go wrong wrapping something in bacon. However this very simple preparation can go quite wrong if you don't use the best ingredients. Despite clearly being fried they weren't at all greasy, just a nice pairing of smokey meat from the bacon and gooey sweetness from the date with a sliver of almond on the inside to add to the texture. The brown sugar balsamic glaze sort of carmalized them in a way I had never had before. Though all the bites at this Spanish-inspired tapas bar were quite good, this dish is the one that got me in the door and put a big smile on my face.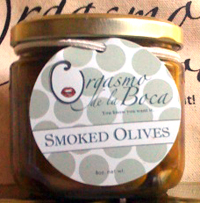 Orgasmo de la Boca Smoked Olives

I kept hearing about these delicious treats from my foodie friends on Twitter. Sometimes social media can be a very good thing. I knew they were sold at the Wine Expo, a wine shop in Santa Monica and when I found myself on that side of town I made sure to stop in and get a jar. Chef Alessandra Innamorato smokes local, naturally salt cured, Greek and Sicilian olives over apple wood and finishes them with a touch of hickory. If you love olives and love the smell/flavor of bacon than you are going to become as addicted to these as we are now. Granted there's no bacon used to flavor these olives, so they are still vegetarian, it's just the intense smokiness that brings it too mind. I never would have thought of smoking olives, but I'm sure glad Chef Alessandra did.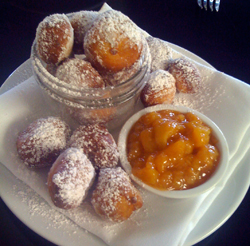 Beignet Bites with Apple Compote from Artisan Restaurant – Paso Robles, CA

OK, so this restaurant was on my list last year, but not for this dish. It's our favorite dining place in town, yet we had never eaten brunch there until this summer. While we both loved our main dishes, we just couldn't resist sharing an order of their beignets. I mean, really, who could? I've never had anything cooked by Chef Chris Kobayashi that's disappointed me and these kept his track record alive. Lightly sweet, crispy-on-the-outside, doughy-on-the-inside goodness. A wonderful way to start the meal, that thankfully was bite-sized since we quickly inhaled every last one.


Croque Madame from Petrossian Boutique – West Hollywood, CA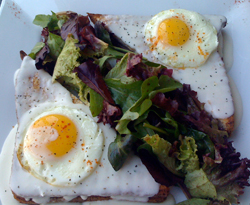 Yes, this is the second croque on the list. I'm obsessed with the "madame" version of this sandwich (which includes the eggs) and ate over ten of them at different places all over Los Angeles trying to find the perfect one. This one tied for first place (the other winner was from Church and State Bistro). I edged over to the Petrossian version for its lovely presentation, sheer size - it could easily serve two though I ate the whole thing - and the refreshing salad, which gave you at least a smidgen of something healthy on the plate. The Madame is just the best version of a grilled ham and cheese sandwich ever. The egg may seem weird, as it did to me at first, but it is absolutely essential to the mix of flavors. It's breakfast and lunch in one delicious package. How could it be wrong?
Red Velvet Wicked Whoopie Pie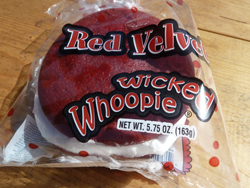 As you can see, I'm not a big dessert person, but I had to put at least one sweet on my list. I only really eat two types of dessert – creme brulee/panna cotta and anything red velvet. The problem with the latter is that I'm always searching for the version my grandmother used to make when I was a kid. It was a deep red, dense and chocolatey 2-layer affair with the best cream cheese frosting, that I can still taste. Mostly I am disappointed, but when we saw the Wicked Whoopie pie booth in the Maine Building at the Big E (the annual Western Massachusetts state fair) we just had to try it. Not only was it gigantic (6oz) - I could barely get my mouth around it and it took four of us to eat the whole thing - it brought me back thirty years. The company was started twelve years ago by a mother of two in Maine and the flavors have expanded from the original chocolate to over 10 different versions. The Pumpkin is supposed to be amazing, but for my money this was the best Red Velvet treat I've had in years.
Lisa Dinsmore is a writer, web programmer, movie and wine lover. She currently runs two review websites to share her passions: www.crazy4cinema.com and www.dailywinedispatch.com. She is also the Managing Editor of One for the Table.