In over four decades on this planet, I've eaten an uncountable amount of food – some good, some bad, most forgettable. It was something I used for ballast and to curb my hunger. Occasionally, it paired just perfectly with my wine choice – which I always spend more time thinking about – making me more aware of what I was chewing and wishful that that culinary cohesion happened more often.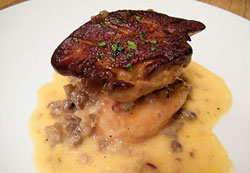 Tired of eating my usuals and looking to raise my food bar, last year I decided to try everything that came my way, to open my palate to new experiences regardless of my past encounters...and what I found was almost magical. In the right hands, food, even simple food, could be (and was) extraordinary, more than the sum of its parts. Like great wine, it caused my mind to go numb with pleasure, as my tastebuds were bombarded with culinary perfection, with flavors and textures previously unimagined.
While I didn't love every item I took a chance on, some of my newfound choices brought delicious delights I know I will never forget and changed the way I thought about food. After eating the following things, you should have seen the look on my face.
Foie Gras Biscuit with Maple Sausage Gravy at Animal in Los Angeles: Seriously, the most surprisingly delicious thing I have ever eaten. It was my first introduction to foie gras (until this past fall an item I avoided like the plague) and it was mind-boggling. My expression made our friends burst out laughing, reaching for their cameras to capture the moment. I can still taste it (in a good way). Sweet, savory, yeasty, rich, meaty goodness that just melted in my mouth. This is a "last meal" dish, I will be returning for as soon as possible.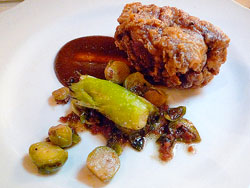 LudoBites 3.0 Fried Chicken with Mole: For those of us who had the luck to eat at Chef Ludo Lefebre's third pop-up incarnation this fall, I know it's this dish, more than the Foie Gras Beignet, that had most of us begging for seconds...or that he open a fried chicken franchise. His Caramelized Cod with Citrus Powder, Celery Root Puree & Mustard has to be the most amazing fish dish I have ever eaten, as it left me wanting more and that has never happened. However, it's the Fried Chicken that left us speechless...and ordering another round. Perfectly crisp, intensely juicy with nary a bone in sight matched with a spicy mole that added just the right amount of spice and heat. I seriously doubt I will ever eat a better version. The caramelized baby corn and Brussels sprouts were the perfect counterpoint. Never had Brussels so tiny that packed such a flavor punch. When 4.0 rolls around, there is no way I will miss it.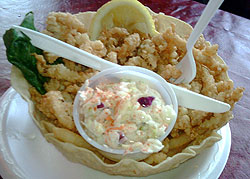 Fried Clam Basket at The Beachcomber in Wellfleet, MA: It's not really a stretch to find great seafood on Cape Cod in the middle of the summer, but I'm not really a fan of the seafood genre so this trip was quite out of my culinary box. I ate everything from oysters (still not fully onboard) to lobster to chowder and found myself slowing overcoming my general distaste for ocean fare. Of course, when prepared well from the freshest, high quality ingredients it's hard to complain. In regards to this dish, well, anything fried is going to taste pretty good in my book, but here the crunchy coating was a perfect complement to the sweet, tender clams with no awful "fishiness" or greasiness to be found. I didn't even care about the french fries (and laid off the ketchup), these were soooo good. A perfect seaside lunch.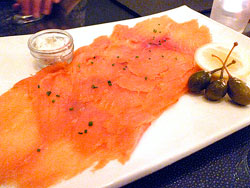 Smoked Salmon with Toast Points at Petrossian Boutique in West Hollywood, CA: This would be a no brainer for most people, but I don't eat salmon. Ever. In any form. It's just too fishy. The only time I really enjoyed it – and actually had seconds – was a poached version made by our friend Charles. Then the Man ordered this dish when we were at dinner with a passel of foodies who eat everything they're not allergic to. Not wanting to appear like a food wimp, I prepared a toast point with a wafer thin slice of salmon, doused in lemon juice and creme fraiche. I swallowed my fear, took a small nibble and was amazed. It was totally unexpected and I went back for seconds and thirds. It was succulent and subtle, all the components creating the perfect little bite. I've been back and it's not a fluke. I'm still not a salmon lover, but I'll eat theirs every time.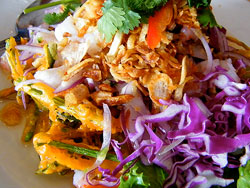 Crispy Morning Glory Salad at Jitlada Thai in Los Angeles: Who knew you could deep fry Chinese water crest? And that it would be so damn addicting. Have been to this tiny Thai restaurant several times and we always get two orders of this salad. One plate is just not enough. It's fresh, light and crunchy with perfectly cooked shrimp, crisp vegetables and just the right amount of sweetness and heat. A salad even a man could love and a great palate cleanser in between all the lush seafood curries and savory meat dishes that are equally irresistible.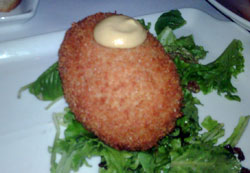 Scotch Egg at The Gage Tavern in Chicago: I had never heard of a Scotch Egg before I started following foodies on Twitter. It consists of of a shelled hard-boiled egg, wrapped in a sausage meat mixture, coated in breadcrumbs, and deep-fried. What could be wrong with that, you wonder? Well, I loathe hard boiled eggs. Seriously. The texture just grosses me out. Well, unless they're wrapped in sausage and deep-fried. There is nothing healthy about this dish, but it sure was 100% delicious. A must try if you find it on the menu. Went out of my comfort zone and was well-rewarded.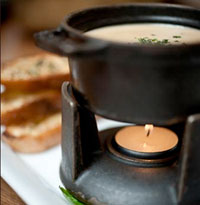 Smoked Gouda and Porter Fondue at Artisan in Paso Robles, CA: Our go-to appetizer at our go-to restaurant whenever we're in Paso Robles wine country. Owned and operated by the Kobayashi brothers – one's the manager, the other head chef – they were the best thing to hit this small town in 2006 and quickly took over the food scene. Their menu is fresh and innovative without breaking the bank. I don't really "get" fondue (though I LOVE cheese), but theirs' is irresistible. The beer and cheese melting together into savory, rich, gooey goodness. Served with garlic toast, grilled andouille sausage and sauteed broccolini, you can choose how bad you really want to be. Not the first time we had this dish and it won't be the last either.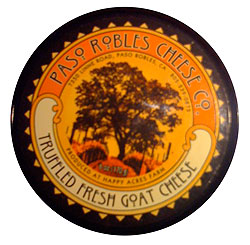 Truffled Fresh Goat Cheese made by Paso Robles Cheese Company: When our friends at Cass Winery said they were going to start making cheese, I couldn't have been happier. I love cheese almost as much as wine and if they made their cheese as well as they made wine.... Well, they did. Of course, you have to like goat cheese and truffles, but if you do, this combination will blow your socks off. It's soft, creamy and lush with bits of black truffle that turn it into a savory delight. Who needs crackers when you have fingers? It's the hit of every party we bring it to. The drawback – it's currently only available at the winery. Thankfully, we go up there enough to keep our craving at bay. Once you have it, you will want more.
Runners Up: Black Raspberry Ice Cream at Four Seas in Centerville, MA; Pesto Gnocchi at Firenze Osteria in Los Angeles; Crispy Fish Tacos at Pier46 Seafood in Templeton, CA and Kurobuta Pork Carnitas at Yamashiro in Los Angeles.
I do realize almost everything on the list is fried or contains cheese. I never claimed my favorites were healthy, just delicious. My cholesterol is fine by the way, since I don't eat these things regularly. Though life would taste very good if I did.
– Photos from Animal, LudoBites 3.0 and Jitlada courtesy of Jo from MyLastBite.
Lisa Dinsmore is a writer, web programmer, movie and wine lover. She currently runs two review websites to share her passions: www.crazy4cinema.com and www.dailywinedispatch.com. She is also the Managing Editor of One for the Table.