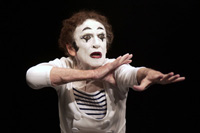 When I was 15 years old I went to Royce Hall at UCLA to see Marcel Marceau. I really hate admitting that because people razz me about it all the time, but honestly, I was dazzled by what I saw. The idea that you could make people laugh without uttering one word fascinated me. Seeing him play the strong man in the circus and give the illusion of holding an enormous barbell as he bends all the way back to the ground, or "walkeeng against zee weend", or being trapped in 'zee box', just blew me away man.
I don't know what gave me the balls to do this, but I went backstage. After gushing for 5 minutes I asked him if he could recommend someone in Los Angeles who could teach me the technique. Let me first say, that when he opened his mouth and spoke, out came a high-pitched, reedy voice. He chose the right trade. But the guy was so kind and gracious. He told me that Richmond Shepard was a former student of his and a good teacher.
I studied with Richmond for 3 years and learned improv along the way.
When I was 18 I went to New York to audition for three British Companies, The Royal Academy of Dramatic Arts, The London Academy and Bristol Old Vic. All of these schools had preliminary auditions. I cobbled together a scene from Franny and Zooey and did one of Viola's monologues from Twelfth Night. I'd had some success with that monologue at a Shakespeare Festival in High School and I knew my way around it pretty well.

It was pretty nervy to perform Shakespeare for a bunch of Brits, but they liked me well enough to include me in the 80 people they took out of 300 for the final auditions in London.
I went to London on my own.
My mother was friends with an English actress she wanted me to look up when I got there. When she received me, I beheld everything I hoped I would never become; an aging tootsie with a gigolo boyfriend in a badly decorated apartment.
There were skin magazines laying around, opened to pages revealing sexual tableaus I never even dreamed existed. She was barely cordial to me, which made me wonder why she even agreed to see me. I never went back.


The following day I went to RADA to perform my audition. Immediately, afterwards, a bunch of us were gathered into a small room and told right there we were rejected. By that time I had already gotten word that it was the end of the road for the London Academy as well.
Bristol Old Vic rejected me after a particularly mortifying weekend long audition. Things were going swimmingly until I was asked to perform a joke. My friend Dory's mother Faye had been in Vaudeville and told me a joke that was done in an African American dialect. I launched into the joke, dialect and all, but couldn't remember it in its proper order. I would have made a better impression if I'd simply farted onstage. At best, I came off as a racist.

So there I was at 18, alone in London, away from home for the first time, just finding out that my first venture towards my great big life had failed. I called my parents, wailing on the phone. After I'd calmed down a bit, my mother suggested I go to Paris and see if I could study at Marcel Marceau's school. It had always been my plan to at least visit while in Europe, so off I went. The day I got there, I went right to the school, spoke to the master himself, reminding him of our prior meeting and telling him about the training I'd received. A part of me was praying he'd say "non", because I never imagined living in a country where I didn't speak the language. Yes, I'd had high school French, but I got a D in it for crying out loud.
Fortunately, things didn't go the way I wanted them to and I started the next day. The school was housed in the back of an opera house. It was five stories high and each floor was reached by the only means possible: a spiral staircase. The student body was composed of, er, French people. French Canadians (a different kind of French entirely) and deaf people. So, total immersion in French and sign language for me.
After a day of ballet, fencing, acrobatics and mime technique, I was hungrier than I'd ever been in my life. I hooked up with another student at the school and we soon found an apartment in the 5th arrondisment .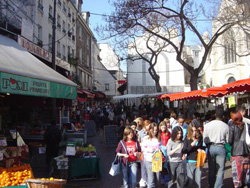 It was at the top of Rue Mouffetard, an open-air market second only to Les Halles, which was about to close the following year.
We were steps away from le Place De La Countrescarp. Right there in the square was a café called Le Chope. They served the best Croque Monsieur imaginable. Also, there were various street vendors. My favorite were the fresh made crepes, prepared in front of you by pouring batter on a hot metal disc and moving it around with a wooden rake. I know they have them at our local farmers markets now, but few of them make the flavor I like: butter and sugar. An impossible French indulgence.
I'd never seen anything like Rue Mouffetard. It was a horn of plenty spilled out upon rows and rows of tables lining the entire street on both sides. The color, the scents, and the bustle. My breakfast every day could have used a Lipitor chaser. Eggs, yogurt, pate, brie and a baguette. The whole concept of buying fresh, hot bread every day was new and something I promised myself I'd continue the rest of my life. I was in Paris five years ago with my family and didn't get a chance to see the old neighborhood. But I looked at pictures of Rue Mouffetard online and by golly it's the same. You CAN go home!
Laraine Newman is a founding member of The Groundlings Theatre Company and an original cast member of Saturday Night Live. She lives in her hometown of Los Angeles with her husband and two daughters.