Al Duello: My First Night in Rome
by Rachel Rader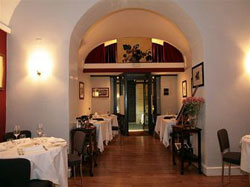 I just spent my first night in Rome and wanted to share my dinner from last night. It was at Al Duello, a place a friend recommended. It was absolutely incredible.
It's a cute little place off a random side street between the Pantheon and Piazza Navona. It wasn't too busy and they were super sweet with me. Not only did they bring me a free glass of champagne, but a free desert, as well. I had sadly decided I couldn't quite muster eating it after the other three delicious courses; however, they insisted. Man, whatever it was it was worth shoveling into my mouth and overindulging.
It wasn't the cheapest meal, but given all I ate, how good it was and, oh yeah, two large glasses of wine, it was well worth it. I can only hope the rest of my meals here are this good.
Boston


by

Kitty Kaufman





B & G Oysters is one of those places that took off on Day One or at least that's how I remember it. We've had lunch there for years, not years and years, but enough to know that every oyster's...

Read more...

Los Angeles


by

Jo Stougaard





My first taste of Chef Josiah Citrin's cooking was at the James Beard "Chefs and Champagne" event in May. Melisse served a Spring Veal with Anson Mills Polenta, Morel Essence and Red Wine Jus. I...

Read more...

Northern California


by

Scott R. Kline





Slider Bar Café in Palo Alto recently opened on the popular main drag, University Street. There were countless restaurants bustling on a Friday night, including this place. A striking, high...

Read more...

Maine


by

Lisa Dinsmore





We're not really "Food TV" watchers since most of the shows make me hungry and feel inadequate as a cook, but we've recently become addicted to Man vs. Food. It's nice to live vicariously through...

Read more...