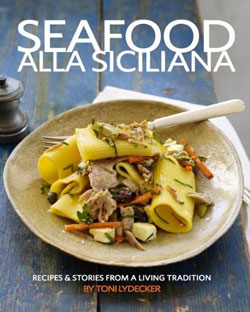 In the beginning of the new cookbook, Seafood Alla Siciliana: Recipes and Stories from a Living Tradition
, author Toni Lydecker quotes Goethe:"To have seen Italy without having seen Sicily is not to have seen Italy at all, for Sicily is the clue to everything". And you'll certainly feel this way after reading this beautiful book. When the publisher contacted me and sent me a copy, I couldn't wait to read it after all, this is where my mother was from. This is not just a collection of recipes but an in depth look at Sicily itself its history, its food, its wine, its culture.
Lydecker is a noted food writer, specializing in Italian cooking. When she finally goes to Sicily to learn the regional seafood cooking there, she immerses herself, learning dishes from home cooks to restaurant chefs. She visited winemakers and toured food processing plants. She toured the Agostino Recca anchovy plant, the makers of my beloved anchovies. Her stories and notes about these visits are well worth reading and really add to this book.
The heart of Sicilian cooking includes a handful of ingredients - olive oil, sea salt, capers, anchovies and tomatoes. The author explains each ingredient in depth, its history and how it is used in Sicilian cooking. Many dishes are created around these essential ingredients. The book also includes a section about pairing Sicilian wines with seafood, which I found to be a nice touch.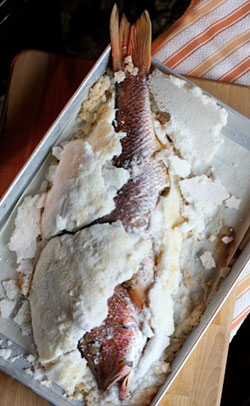 The recipes in this book will inspire you and include lots of great Sicilian dishes, like Sardines Stuffed with Breadcrumbs, Pine Nuts and Currants, Couscous with Fish, Seafood Pizzas, Classic Swordfish Rolls and a contemporary version that will knock your socks off - Pistachio-crusted Swordfish Rolls with Escarole Filling. Although everything in the book is based on seafood, there are salads, including a Baccala Salad with Blood Orange and Pomegranate Seeds and a chapter on desserts like Lemon Granita and Marsala Raisin Cake.
There is also an invaluable chapter for any seafood lover on the proper way to buy, handle and cook each type of seafood and acceptable substitutes to use. Her best tip - whenever possible, buy a whole fish, even if you plan to filet it later. You are more apt to get a fresher fish and the taste will be better.
To that end, I have made her recipe for a whole fish baked in a crust of salt. This method is common in Sicily and produces a really moist, perfectly seasoned fish. Most Americans do not cook fish whole, but if you love fish, this is a technique you should try. Not only is it remarkably simple, it is almost foolproof, resulting in a perfectly cooked fish with little effort.
The recipe below calls for a small whole fish, about 1.5 pounds. I used a very large fish, a 5 pound red snapper. I simply tripled the amount of salt and doubled the cooking time.
Whole Fish Baked in a Salt Crust
Ingredients:
Lemon slices
Several sprigs of flat leaf parsley
1 sea bass or other suitable whole fish, about 1.5 pounds, cleaned and scaled
4 cups sea salt or kosher salt
3 egg whites
Extra virgin olive oil
Lemon wedges

Instructions:
Preheat the oven to 375°F. Tuck the lemon slices and parsley sprigs into the cavity of the fish.
Combine the salt, egg whites, and 1/4 cup water in a bowl, mixing well until the salt has the consistency of damp sand. (If the mixture feels too wet, add more salt; if too dry, stir in a bit more water).
Line a large rimmed baking sheet (or any other baking dish) with foil or parchment paper. Using half of the damp salt, form a bed for the fish. Place the fish on top, and pack the remaining salt over it to form a covering.
Bake the fish to an internal temperature of 135 - 140 degrees, about 25 minutes. (You can just poke an instant read thermometer right through the salt, into the fish). Remove from the oven and let stand for 10 minutes.
With the back of a wooden spoon, crack and remove the hard, pale brown crust of salt. Remove the skin and fillet the fish. Serve with your best olive oil and lemon wedges.
Elaine McCardel shares her love fresh, homemade Italian cooking and food photography on her blog The Italian Dish.