Every Night Italian
by Giuiliano Hazan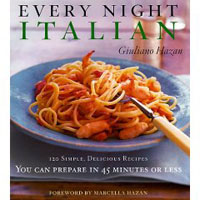 One of the nice things about this book is that every thing in it takes 45 minutes or less to prepare. And the other nice thing is, most of the recipes are actually easy to make on a budget – Spaghetti with tomatoes and anchovies (let's face it, you either like anchovies or you don't and some of us do!); Red Snapper with Fresh Tomatoes and Black Olives; Chicken Braised with Tomatoes and Black Olives; Veal Stew with Green and Yellow Peppers; Savory Three Meat Loaf with Simple Tomato Sauce; Red Cabbage Slaw; Marinated Green Beans – you get my point. And everything we've tried, anyway, is perfect!
As recommended by Amy Ephron
Buy Every Night Italian
Mid-Atlantic


by

Anna Harari





Read more...

Washington


by

David Latt





On a recent food tour of Spokane and Northern Idaho, enjoying the beautiful scenery with clear running rivers and crystal blue lakes, I discovered a handful of restaurants that are living up to...

Read more...

Europe


by

Anna Harari





It was a Lonely Planet recommendation, but the description made it hard to tell – it was definitely trendy, but would it be good? We arrived, and it was, as promised, a scene. A hungover...

Read more...

Los Angeles


by

Charles G. Thompson





In many places in the world a bakery is often the nexus of a neighborhood. A place where the locals meet to buy baked goods and bread. Bread, the so-called 'staff of life,' is inexpensive...

Read more...