Candy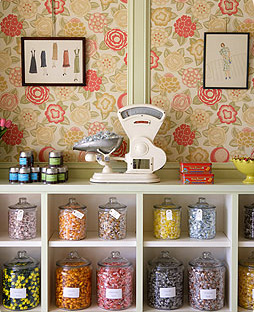 Audiences loved the romanticized fantasy version of Paris to be found in the movie Amelie. It was saturated with color, filled with quirky personality and a timelessness that made it seem charmingly old-fashioned and modern all at once. If Amelie was a candy shop, it would be Miette Confiserie.

Imagine a shop with large apothecary jars filled with old time candies you might remember from your childhood like cinnamon red hots, sanded lemon drops, and Swedish fish. Added to the bulk candies are those little tins of foil-wrapped chocolate sardines, chocolate bars, lollipops, even packages of pop rocks.
Looking for something more deluxe? There are handmade caramels, a good selection of foil-wrapped chocolates and chocolate bars and imported marzipan in addition to packages of freshly made cookies from the Miette bakery. There is also a lot of licorice if that's your vice.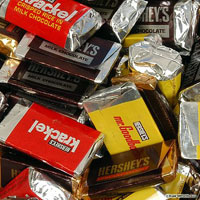 A few months ago I discovered that my friend Jane keeps a tall glass jar in her kitchen filled with chocolate candies – bite-size Dove bars, Mr. Goodbar, Hershey's Golden Almond, Snickers, all my favorites. Personally I've never understood how anyone could keep chocolate out in plain sight without consuming it. Unless you're Willie Wonka.
Although I don't keep any chocolate visible in my house, I love it when other people do. I have selected physicians based on the selection of candy in their waiting rooms. And once I discovered this treasure trove in Jane's house, I always stop by the jar on my way out like a trick-or-treater on Halloween, and toss a few chocolate candies into my purse. Just in case of emergency. Which could happen on the drive home.
As if Jane's house weren't already my favorite place to visit, she also owns a great piece of exercise equipment called a Power Plate. At some other time I can possibly explain this machine but not right now when my attention is focused on the candy jar.