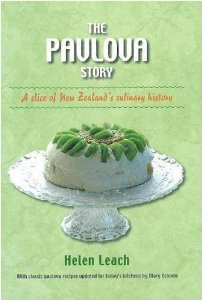 Apparently the origin of this meringue-based dessert is somewhat unclear, but seems to have been created in honor of Russian ballet dancer Anna Pavlova's visit to New Zealand and Australia.
The nationality of its creator has been a source of argument between the two nations for many years, but according to Helen Leach's research in her book, The Pavlova Story: A Slice of New Zealand's Culinary History
, New Zealand is the source of the ethereal dessert.
It's a fairly easy recipe to master, and although the cloudlike meringue shells are somewhat delicate, they are easy to make in large batches, and will keep for a few days in an airtight container.
They are usually served with fruit and whipped cream, but I prefer this version that incorporates lemon curd. Because you can make the shells ahead, it's a great dessert for entertaining, and they can be assembled in minutes.
Store-bought Lemon Curd is fine to use in this recipe – look for Wilkin and Sons Tiptree Lemon Curd or Dickinson's. Pavlovas are light and refreshing, making them an elegant Spring dessert.
Serves 12.
Meringue Shells
4 large egg whites (about 1/2 cup), at room temperature
1/4 teaspoon cream of tartar
Pinch of salt
1 cup (7 ounces) sugar
1/2 teaspoon vanilla extract
1/2 teaspoon white vinegar
Mixed Berries
2cups (10 ounces) raspberries
2 cups (10 ounces) blueberries
1 tablespoon sugar
Lemon Cream Filling
1 cup (1 pint) heavy cream, chilled
1 1/2 cups Lemon Curd, store-bought or homemade
Powdered Sugar and Mint leaves, for garnish, optional
FOR THE MERINGUES:
1. Adjust the oven racks to the upper- and lower-middle positions and heat the oven to 200 degrees. Line 2 large baking sheets with parchment paper.
2. In the bowl of an electric mixer, beat the egg whites at medium-low speed until they are opaque and foamy, about 30 seconds. Add the cream of tartar and salt, increase the speed to medium-high, and, watching carefully, beat the egg whites until they form soft peaks, about 90 seconds. Slowly sprinkle in ½ cup of the sugar and then the vanilla and vinegar and continue to beat until incorporated, about 60 seconds. Remove the bowl from the mixer and sprinkle in the remaining ½ cup sugar and fold in just until incorporated. Using a ¼-cup dry measuring cup and a soupspoon, place 6 heaping ¼-cup dollops of meringue about 1 inch apart on each sheet. Gently press the back of the soupspoon into the center of the mounds to create hollows. Bake for 1½ hours or until the meringues have smooth, dry, and firm exteriors. Turn the oven off and allow the meringues to cool in the oven for two hours. Once cool, store the meringues in an airtight container, where they will keep for 3-4 days, until ready to use.
FOR THE FRUIT:
1. Combine raspberries and blueberries in a medium bowl. Sprinkle 1 tablespoon sugar over the fruit, and using a rubber spatula, stir gently to combine. Cover with plastic wrap and set aside at room temperature until the berries begins to exude their juices, about 30 minutes.
FOR THE LEMON CREAM:
1. Just before serving, beat the cream in a chilled bowl of an electric mixer on low speed until small bubbles form, about 30 seconds. Increase the speed to medium; continue beating until the beaters leave a trail, about 30 seconds more. Increase the speed to high; continue beating until the cream is smooth, thick, and nearly doubled in volume, about 60 seconds for stiff peaks. Beat in the Lemon Curd just until well combined.
TO ASSEMBLE THE PAVLOVAS:
1. Place a meringue shell on a dessert plate. Top with ½ cup lemon cream. Spoon ½ cup of fruit over the lemon cream. Sprinkle with powdered sugar and mint. Repeat with the remaining meringue shells, lemon cream, and fruit. Serve immediately.
James Moore has been a cooking enthusiast since childhood and started blogging as a way to share favorite recipes with friends and family. His site, Cook Like James has grown to include restaurants, cookbooks, wines, and favorite places.