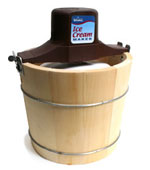 My husband Leo loves ice cream. I like it, but he loves it. For a wedding present, we received a wooden ice cream maker that like the old fashioned ones, needed to be filled with ice and rock salt, but unlike the old fashioned ones, could be plugged in and churned the ice cream without the 'elbow grease.' Once every few years, we'd pull it out and impress ourselves by making a batch of lovely vanilla ice cream, but it was always a big production for the results. About 6 or 7 years ago, as a birthday gift for my ice cream loving husband who almost always has a quart of vanilla in the freezer, I bought a double Cuisinart automatic ice cream machine. It consists of a motorized bottom, plastic churners and plastic covers with two metal containers which I keep in the freezer at all times.
I can now make ice cream whenever we need a decadent treat and the various versions of brownies that are always in the freezer are not enough. Our favorites are various recipes of Vanilla Custard and the wonderful Cheesecake Ice Cream from Nigella Lawson's Forever Summer with graham cracker bears mixed in. And we love the Lemon Sorbet that we've made (from the very productive dwarf Meyer lemon tree we planted in our backyard almost 18 years ago after moving into our home. How could we live in a house without a lemon tree?) using the recipe in Luscious Lemon Desserts by Lori Longbotham.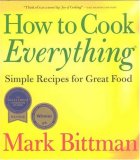 Another favorite, and an unexpected treat, is the Bitter Chocolate Sorbet out of Mark Bittman's How to Cook Everything. And because there are two sides, sometimes we even make two flavors at once. I think I'll have to try some fruit versions this summer. I have some fragrant peaches and nectarines sitting on my counter ripening and they may be the very thing I need to inspire me this week. So, ice cream continues to be something very special in the Madnick household
But I had never thought of making an ice cream cone until visiting my sister, Lisa, in Bend. We stopped into a little kitchen shop last year while I was visiting her either while she was pregnant or after her baby, Bodhi, was born. In this wonderful little store in downtown Bend, there was a device that looked like a waffle machine, but turned out to be a waffle cone maker
. Knowing how much her husband Marc also loves his ice cream, I offered to buy it for him for his birthday. Seeing what a good gift it would be she chose to buy it for him herself.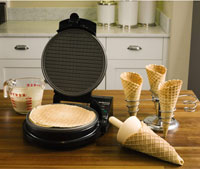 When my 15 year old daughter Becca and I returned months later to visit them all, we were treated to the whole experience of mixing up the batter, cooking the rounds briefly in the machine, and then molding them around the plastic cone shaper. They were light, crispy, not too sweet, and divine with the frozen yogurt they keep in their freezer at all times. Not long later, we had our own waffle cone maker thanks to my generous sister.
We've made the cones several times already, with the whole family, including my 17 year old, David, pitching in and giving advice on technique. These cones, are always a treat, especially when I've thought ahead and have a quart or two of homemade ice cream in the freezer. If it weren't almost midnight, I'd pull out the contraption right now and make a batch to surprise my family tomorrow night. I feel like ice cream. Maybe I can find a tablespoon of lemon sorbet that nobody noticed in the back of the freezer. If not, a brownie and a cappuccino will have to do.