Make a vanilla custard first:

2 cups whole milk
1 vanilla bean (split in half, scrape insides into milk, as well as whole bean)
6 large egg yolks
3/4 cup sugar
1/8 teaspoon salt
2 cups heavy cream

In medium saucepan, over medium heat, bring milk and vanilla bean just to a simmer. Remove pan from heat. Whisk yolks with sugar and salt until light yellow. Temper eggs with small amounts of heated milk mixture until you can pour the eggs into the milk safely. Cook, whisking constantly, for 8-10 minutes, or until custard thickens enough to coat the back of the spoon. Remove from stove and add the cream. Chill for at least 30 minutes (but I usually do it overnight.)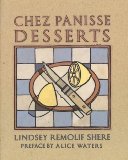 PEACH PART (from Chez Panisse Desserts
)

1 lb. Very ripe, good flavored peaches (use a yellow flesh peach for good intense flavor)
vanilla extract to taste
1/4 cup sugar (Gary used a bit more)

When you are ready to make the ice cream, peel and pit the peaches and cut in thin slices into a bowl. Toss with sugar and let sit for an hour until the sugar is dissolved. Crush peaches with a potato masher, do not puree them. You don't want large chunks of peach or they will taste like gravel, nor do you want a smooth puree. Small chunks. You should end up with about 1 1/2 cups of peaches. Mix with the custard and add vanilla to taste.

Freeze in your ice cream maker.