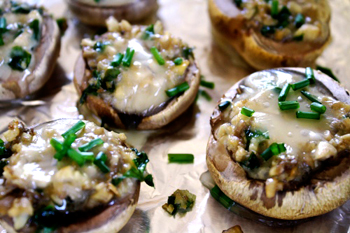 1/2 Tablespoon olive oil
1 pat butter
6 medium-large button mushrooms
1 clove garlic, minced
1 Tablespoon flat leaf Italian parsley, roughly chopped
Splash of white wine
1/8 lb Taleggio, rind removed and cut into cubes – whatever size will fit into your mushroom caps
Chopped chives, for garnish

Preheat oven to 350°F.

Remove stems from mushrooms and slice around gills to make a "cup" for your filling. Set caps aside. Chop stems and any other mushroom pieces you cut off.

Heat 1/2 tablespoon olive oil in a pan with 1 pat of butter. Add garlic and mushrooms, and let cook for a moment. Add chopped parsley and a splash of white wine (I used JUSTIN 2009 Viogner. Feel free to add a splash to your glass, too!) and stir until wine is evaporated.

Fill mushroom caps with stem, garlic, and parsley mixture and bake in the oven for about 10 minutes. Remove from oven, add cubes of Taleggio, and return to oven for 5 minutes.

Sprinkle with chives and let cool for 5 minutes, then serve! These will go fast!
- Recipe courtesy of Sweet Life Laur.