Tres Leches Cake
by Joseph Erdos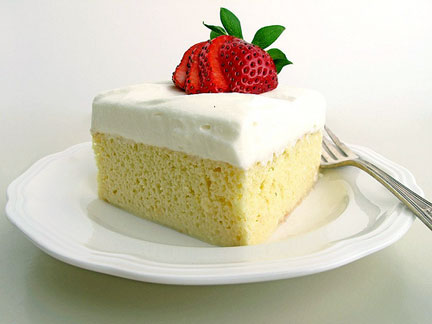 Cinco de Mayo is not necessarily celebrated as a national holiday in Mexico, but here in the United States it's a celebration of Mexican culture and a day where no excuse is needed to fill up on Mexican favorites. Guacamole, tacos, and margaritas are all popular when May 5 rolls around, but what about dessert? One of the most popular Mexican desserts is tres leches cake, a sponge cake made of three types of milk, hence the name. Sweetened condensed milk, evaporated milk, and heavy cream make up this incredibly sweet cake.

All over Latin America and even the Caribbean, people enjoy tres leches cake for holidays or just simple family get-togethers, so why not serve it on Cinco de Mayo this year? Some recipes for the cake use butter, which creates a more dense cake, but this recipe leaves it out to create a softer texture. Also, the egg yolks and whites are beaten separately, which creates more volume. The resulting texture is truly sponge-like, easily absorbing about 1 quart of creamy liquid. After chilling, the cake is ready for the final flourish of whipped cream.

When making this cake, it's a good idea to use parchment paper on the bottom of the pan to ensure easy removal. After cooling, place the cake bottom-side down on a tray or platter that can also be used for serving and slicing. Once the cake undergoes soaking, it will be harder to move, so the fewer transfers the better. Enjoy a slice of tres leches cake at your Cinco de Mayo celebration. Even those guests who have never had it before will absolutely love it.

Tres Leches Cake

1 cup cake flour
1 teaspoon baking powder
pinch of salt
6 large eggs, separated
1 cup granulated sugar
14-ounce can sweetened condensed milk
12-ounce can evaporated milk
3 cups heavy cream

Preheat oven to 350 degrees F. Butter a 9-by-13-by-2-inch baking pan and line bottom with parchment and butter again. Sift together dry ingredients: cake flour, baking powder, and salt.

In a stand mixer fitted with the whisk attachment, whisk the egg whites until stiff. Transfer whites to a bowl. Clean the mixer bowl and whisk attachment. Beat the egg yolks until frothy. Add 3/4 cup sugar gradually and continue to whisk until mixture is pale and ribbony. By hand, fold in the dry ingredients in three additions. Fold in the egg whites in three additions. Pour batter into pan, smoothing top. Bake until cake springs back when touched and a skewer inserted into the center comes out clean, about 20 minutes.

Let cake cool completely. Turn cake out onto a tea towel, remove parchment, and flip onto a tray. Poke cake all over with a skewer.

In a large measuring cup, whisk together condensed milk, evaporated milk, and 1 cup cream. Slowly pour the mixture over the cake, letting it absorb the liquid. Use a pastry brush to moisten the edges. Chill cake for at least 2 hours, preferably overnight.

In a stand mixer fitted with the whisk attachment, whisk 2 cups cream with remaining 1/4 cup sugar until very stiff. Spread cake with whipped cream and serve. Yield: 12 servings
Joseph Erdos is a New York–based writer and editor, butabove all a gastronomer and oenophile. He shares his passion for foodon his blog, Gastronomer's Guide , which features unique recipes and restaurant reviews among many other musings on the all-encompassing topic of food.
San Francisco


by

Joseph Erdos





Every city has its famous market building and San Francisco is no exception. On my trip to the city by the bay last month I couldn't help but visit the Ferry Building Marketplace, a collection of...

Read more...

New England


by

David Latt





In the mid-1970s, when I lived in Providence the food wasn't very good. Sure there was great local seafood, especially clams and lobsters, but if you wanted to eat out, your choices were pretty...

Read more...

London - British Isles


by

Michael Elias





The good thing about having a sister who owns a restaurant – and The River Café is a great one in my opinion – is that when she's cooking my son is allowed to order 'off the menu'. In his case...

Read more...

Los Angeles


by

Carolan Nathan





Flouncing along La Brea Avenue one windy day looking for a great cup of coffee which, by the way, is rather difficult to find in Los Angeles, I happened upon a rather stark building. Being the...

Read more...