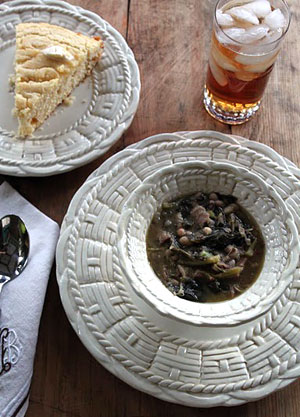 As with any Southern celebration, the table will be donned and decked with the literal pieces of our family's legacy. A great aunt's china, grandmother's silver, or mama's linens. We Southerners know our people and know their worth–a worth laden with sentiment, honor, and legacy if not anything monetarily per say. The memories of those who celebrated this meal are held dear as we utilize their treasures as we shepherd our lives into this New Year.
The garden shall provide our centerpieces. It is wintertime after all, and time to put the garden to bed for a long winter's nap. Cedar, cypress, boxwood, holly, and magnolia will be clipped and set into a coiffure bouquet only the garden can provide. Pine boughs and cones, bowls of pecans in silver dishes, blue juniper berries and deep aubergine privet berries will augment the serenity of the season and a dose of color to our homage of garden greens. Touches of white from early Paperwhites, silvery artemisia, and popcorn tree will truly sparkle against the deep evergreens' foliage, looking ever so dapper in any cachepot, tureen, pot, or pail.

We shall eat for progression, luck, health and wealth, and a myriad of good things, and will end the dining festivities with sweet morsels of Southern goodness. Our gardens and land shall be ever present as our décor–a gentle reminder of where our provisions were grown and raised. The food may be spiced with meaning, tradition, and superstition, but the lore has become a part of our culture. For a few hundred years, we had to eat what we had, what we grew. Though times have changed, eating that food, eating "poor," is still cherished and revered so we may truly eat "rich." We shall have rice for riches and peas for peace and be no worse for the wear. From this Farmer's table to yours, Happy New Year!
Lucky Money Stew

Cook's Note: Use leftover collard greens, black eyed peas, and ham from the holidays for the base of this stew. I froze said ingredients and simply add them to the pot to thaw. Since they are cooked, all they need is to be warmed through. Measurements are give and take and depend on your leftover amounts. Of course, you can always make this stew from the scratch if no leftovers are at hand.
1 Vidalia onion, chopped
Teaspoon of garlic, minced
Salt, pepper, Lawry's and Nature's Seasoning to taste
About 4 cups of leftover cook turnip greens
About 4 cups of leftover black eyed peas
About 4 cups of leftover ham, chopped
4 cups of water
4 chicken bouillon cubes
Brown the onion, garlic, and celery with butter and oil, seasoning to taste. Add chicken bouillon cubes,diced ham, cooked greens and peas. Add two cans of white beans with their liquid and water, bring soup to a boil and then serve with cornbread. Luck and money headed your way!
James T. Farmer III was born and raised in Georgia, where he continues to live and work as a landscape designer. He shares his love of food, flowers and photography on his blog All Things Farmer.