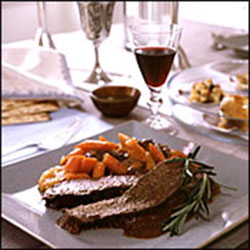 My friend KBell makes socks for a living. But it's what comes out of her kitchen that'll really knock your socks off – the world's most perfect brisket.
That's a boast, I know, that is bound to generate some heat. But what you have to know about Kbell's brisket is two things: She's ridiculously generous about sharing her recipe, which actually hails from her mother Selma Bell of Gloucester, Mass. And, for all I know, from Selma Bell's mother, too. The Bells from Gloucester are like that, a tight-knit (so to speak) family. But the second and probably more important aspect of KBell's brisket is that it's pretty much fool-proof.
The key is in the timing. If you're serving the dish for Friday night, say, you need to make it on Thursday. That way, you refrigerate the meat overnight and can easily hack off the extra globs of fat in the morning and then thinly slice the beef against the grain and, voila – the perfect brisket is simply heated up 45 minutes before you serve it, au jus.
This has nothing to do with religious practices, by the way, like not cooking on shabbos. It has to do with the fact that brisket is delicious precisely because it's marbled with fat. But not too much fat or no one will even look at it.
I'm really not kidding about this being the perfect brisket, either. My mother's brisket was sublime, but there's something about this one that's not-too-sweet and not-too-fatty, either. And then there's the bliss-out factor. I guarantee that when you make this brisket, people will walk in the door and say: "Oh my God, what smells so divine?" Or something to that effect. Plus, it's so damn easy and can feed a small army.
In fact, this recipe might very well change your life for the better. It has mine. This is the brisket I serve every year at our annual crazy cousins Chanukah party. And it's what I dished out for our out-of-town family the night before my daughter's bat mitzvah. Pure magic.
I took a little straw poll the other day among brisket lovers I know. Why do they love it? My friend Carrie says it's an "essential" comfort. She also believes that it's a "mature woman's dish," meaning that it's really not something that you cook as a young person. In other words, cooking a great brisket is one of the few advantages to getting older.
My friend April agrees. She told me: "Not many beef dishes guarantee such juiciness, unless you screw it up, which is pretty hard to do, unless you left the house and went to Antartica and forgot about it."
Then there's my hubby, who says he loves it because it's tender and he likes the way our house smells when I make it. And our kids like the leftovers the next day in sandwiches on Hawaiian buns with bread-and-butter pickles and coleslaw.
Ever one to take the long view, Laura says, "It reminds me of the people I loved who made it!"
So, here's to the matriarchs and the Macabees and one of our annual rituals this time of year, thanks to Kbell.


K-Bell's Pure Magic Brisket
32 oz bottle ginger ale
1 package beefy onion soup
1 whole onion sliced thin
1 bag small carrots
1/2 – 3/4 cup ketchup
1 3-4 lb brisket

Combine all ingredients (except carrots) in large roasting pan with cover. Cook 45 minutes/pound at 325°F. Add carrots for last hour. Separate meat and carrots from liquid. Refrigerate overnight if possible. Skim top layer of fat from liquid and discard. Slice fat from beef and slice thinly against the grain. Cook brisket and carrots in juices 45 minutes at 325°F after slicing. Can be served with bowtie noodles mixed with kasha varnishka, like my grandmother used to do, or with noodle kugel and a crispy salad. Enjoy!