Don't let the name scare you, you CAN use caviar if you're feeling flush, but a jar or two of cods roe will fool even the most discriminating foodie. Red or black depending on your mood and the time of year, but I swear by basic black and let my paprika provide the rouge. I promise you, it's fool proof, if I can pull it off, so can you. Prepare to take a bow and dig in.


Holly's Foolproof Caviar Pie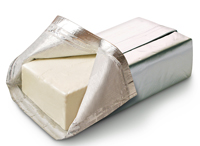 1 glass 9" pie plate
2 small jars or 1 medium jar of cod's roe (red or black)
1 tub of whipped cream cheese
1 small Vanilla Yogurt – (you can use plain yogurt if you must, but why would you?)
1 small sour cream
3 hard-boiled eggs
1-bunch scallions
Paprika
1 lemon for juice

In a bowl, mix the sour cream, cream cheese and yogurt in equal parts. Spread the mixture in the pie plate and refrigerate for a couple of hours.
Boil the eggs and refrigerate, so they're easy to chop.

1 hour before serving
Spread the cods roe/caviar over the cream cheese sour cream yogurt mixture in the pie plate
Then the chopped eggs
Then finely chop the stalks off the scallions and spread over the eggs
Dash of paprika
Then lemon juice - not too much
Decorate with lemon slices
Set the pie plate on a serving dish

Serve with your favorite crackers around the rim of the dish
(Plain ones like Carr's water crackers are the best.)
Holly Palance has been a columnist for BUZZ Magazine, The Editor-in Chief of
Santa Barbara Magazine and Editor-in-Chief of Distinction Magazine at the LA
Times. She is now President of PALANCE et Al, a media consulting firm - he
clients include Direct Relief International, The Santa Barbara Vintners Foundation
and The Santa Barbara Film Festival.