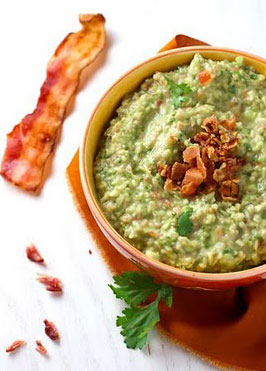 May 5th is Cinco de Mayo, the day when Mexicans commemorate their victory over the French in the Battle at Puebla of 1862. In the Mexican town of Puebla, schoolchildren will study history, artists will sing and dance and chefs will cook traditional foods, all to honor their brave ancestors.

And in cities throughout America, Americans will get drunk. Somehow, this day of national pride for Mexicans has become another excuse for Americans to get sloshed. Think I'm exaggerating? According to Time magazine Cinco de Mayo is the 4th drunkest holiday of the year.

How about this year you get drunk on bacon guacamole instead?

If you think traditional guacamole is irresistible, then be prepared to get punch drunk in love with this porky version: Classic creamy guacamole is studded with nibs of salty, smoky, crisp bacon.
And in case you're wondering, yes, bacon guacamole does taste better if you eat it while wearing a sombrero and shaking some maracas.
Bacon Guacamole
This recipe is from my book, Recipes Every Man Should Know
Makes 6-8 servings
6 slices bacon
Flesh of 2 ripe avocados
1 medium tomato, chopped
4 scallions (white parts only), finely chopped
Juice of 1 lime
A couple of pinches of salt
A couple of dashes of hot sauce
Small handful fresh cilantro leaves, finely chopped

1. Place bacon in a skillet over medium-high heat and cook until crisp. Drain on a paper-towel-lined plate. Let cool and chop into small pieces.

2. Combine remaining ingredients in a blender or food processor and pulse until chunky.
Susan Russo is a free lance food writer in San Diego, California. She publishes stories, recipes, and photos on her cooking blog, <Food Blogga and is a regular contributor to NPR's <Kitchen Window. She is also the author of Recipes Every Man Should Know
and The Encyclopedia of Sandwiches
.