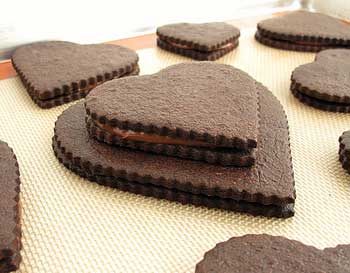 1 cup all-purpose flour
1/4 cup cocoa powder
1/4 teaspoon baking powder
5 ounces bittersweet chocolate, finely chopped
1 teaspoon instant espresso powder
1 teaspoon pure vanilla extract
1 teaspoon hazelnut liqueur
4 tablespoons (1/2 stick) unsalted butter, room temperature
1/2 teaspoon salt
1/4 cup granulated sugar
1/4 cup packed light-brown sugar
1 large egg
chocolate-hazelnut spread, for filling

Sift together the dry ingredients: flour, cocoa powder, and baking powder.

On medium-low heat, melt the chocolate in a heat-proof bowl over a pot of simmering water. Off from heat add espresso powder, vanilla, and hazelnut liqueur; mix to incorporate. Let cool slightly.

In a stand mixer fitted with the paddle attachment, beat the butter, salt, and sugars on medium speed until light and fluffy. Add egg and mix until combined. Fold in melted chocolate. Add the dry ingredients a little at a time on low speed, scraping down the sides of the bowl. Mix until combined.

Form dough into two discs and wrap in plastic. Refrigerate for at least 1 hour before rolling.

Preheat oven to 375 degrees F. Line baking sheets with oven-safe parchment paper or Silpats.

Roll out one disc of dough between two pieces of plastic wrap to 1/8-inch thick. Keep second disc in refrigerator until ready to roll. Cut out cookies using a 2- or 3-inch heart cutter and transfer to lined baking sheet, arranging no more than 1 inch apart. Reshape scraps of dough into a disc, wrap in plastic, and keep in refrigerator until ready to roll again.

Bake cookies for 7 to 8 minutes. Let cool completely. Spread cookie bottoms with about 1 to 2 teaspoons of chocolate hazelnut spread and sandwich with tops, squeezing together.
Yield: 20 sandwiched cookies.
- Recipe courtesy of Joseph Erdos