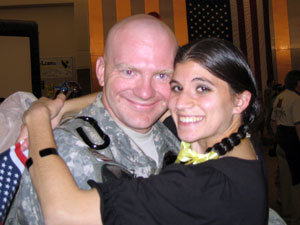 My husband is on active duty in the US Army, and for our first holiday season together we were living in a little town called Sierra Vista, Arizona, which is adjacent to Fort Huachuca, where he was stationed. Since we had only been married since the previous January and we were just starting our life together, we couldn't afford to go home to our beloved California and our families for the holidays, so we were toughing it out in Sierra Vista alone.
Being Jewish, no holiday season was complete for me without my mom's fabulous potato latkes, and by Christmas Day (which also happened to be the last night of Hanukkah), I was feeling pretty down at the prospect of the holiday season passing without them. My husband, wanting to make me happy, suggested that we make them for Christmas dinner. Since he is Christian and had never had potato latkes before, I thought this would be a wonderful way to introduce him to a delicious new food and also to merge our holiday customs and traditions together, setting a precedent for the years of holidays to come. I enthusiastically agreed.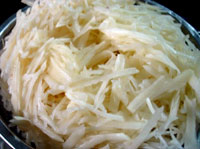 Not remembering the family recipe for potato latkes, I called my mom at home in Monterey, California. She patiently told me the quantities of each ingredient I would need and walked me through all the steps. Right before hanging up, she added, "Oh, and be sure to allow lots of time to heat up the oil for frying, since it needs to be very hot. Start up the stove and let the oil start heating while you peel potatoes and mix all your ingredients together, so it has enough time to get as hot as it needs to be." I thanked her, promised we'd call the next day, and relayed the directions to my husband. He started pouring oil into the frying pan to heat while I set up shop on the other side of the kitchen with a big bowl, a grater, one onion, and seven potatoes, dreaming of delicious crispy latkes with applesauce and sour cream.

Half an hour later, all the potatoes and onions were finally peeled, and mixed in with them was the egg, matzo meal, salt, and pepper. It was time for cooking. We went back to the stove, and to my surprise, the pan with the oil was covered with a lid. Having never seen my mom cover the pan before, I asked my husband why he had covered it, and he said, "It gets hotter this way, and it heats up faster, so we don't have to wait for it to heat up and they'll cook faster." Having never taken college chemistry and being a very inexperienced cook to boot, I saw nothing wrong with this explanation and lifted up the top of the pan to put the first round of latkes in. Smoke immediately began billowing out, followed momentarily by a giant fireball at least three feet around! I screamed, and my husband came running.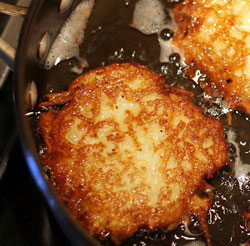 Being a much more collected person than myself, he grabbed the lid of the pan and put it back on, thus putting out the fireball, and then he turned off the stove. By this point, the smoke alarm was blaring and I was hysterical, envisioning our apartment going up in flames. My husband carried the hot pan outside and set it down on our porch to cool off in the freezing desert night air, assuring me that everything was going to be okay and that as soon as the pan cooled down, it would be safe to take the top off again.
I, however, had scenes from the movie Backdraft racing through my mind and could picture tomorrow's headline: Entire Town Burned To The Ground By Couple Cooking Christmas Dinner. Finally, after I made him wait about an hour as well as call his own mother to make sure, he took the lid off the pan again….and nothing happened, of course. Crisis averted, we took the pan back inside and reheated it (with the lid off this time!) and enjoyed our Christmas dinner of potato latkes, which tasted just like Mom's, fireball and all.



MY FAMILY'S AMAZING POTATO LATKE RECIPE

7 medium sized potatoes
1 large peeled onion
2 tablespoons Matzo Meal (for you non-Jews, Matzo Meal is a Manischewitz product and can be found at your local grocery store)
2 eggs, separated
1 tablespoon salt
1 teaspoon white pepper
Corn oil for cooking
Salt, applesauce and sour cream for eating

TIP FOR COOKING: While you are preparing the ingredients, preheat the oil since it takes time to get to the high temperature needed for frying! (But make sure to leave the lid off your frying pan.)

Place a strainer into a LARGE bowl, and into that grate the potatoes and the onion (leave the skin on the potatoes, but wash them well). Mix together. Using clean hands, press the potato and onion mixture into the strainer to get the liquid out. Discard the liquid from the bowl, and dump the potato and onion from the strainer into the bowl. Add the egg yolks, Matzo Meal, salt, and pepper. Mix together. Beat egg whites until they form hard peaks, and then fold them into the mixture as well. Place large spoonfuls of the mixture into the hot oil and flatten to form 2-3 inch round pancakes. Let the latkes cook until they are crispy and brown, and then flip them over. Repeat until they are as crispy and brown as desired on both sides. Remove from the oil and drain on paper towels. Serve with salt, applesauce, and sour cream.

HAPPY HANUKKAH!