Killer Kugel
by Susan Salzman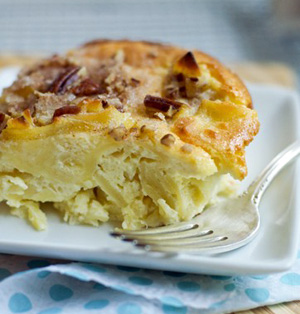 I don't make a lot of kugels. I don't make them because my kids don't really eat them and as much as I want to eat the whole tray, it would take me a month to work off the calories. My grandma used to make them all the time. What I loved most about her kugels were the left overs.
The following day, for breakfast, she would cut off a slice, put some butter in a saute pan and literally pan fry the slice of kugel. Like the kugel really needs anymore butter than it already has. Yet, it is a childhood memory that is rests comfortably on my tastes buds.
My sister-in-law, Tammy is the official kugel creator in our family. She makes them all time and her 3 kids devour it. Tonight, my kids experienced kugel for one of the first times (in the past, they have turned their noses up at it). They are kugel converts. This kugel would make anyone a convert!
I am guilty of eating seconds. It is that good!
Killer Kugel
Adapted from The NY Times
Yield:25-30 servings
Ingredients:
1 lb. wide egg noodles
1 pound cream cheese
1/2 lb. plus 3 tablespoons unsalted butter
1 1/3 cups sugar
1 pint sour cream
1 teaspoon vanilla
8 large eggs
1/2 cup crushed pineapple, drained
4 oz. pecans, toasted
1 teaspoon vanilla
Instructions:
Grease a 13″ x 9″ glass or ceramic baking dish with 1 tablespoon of butter.
Cook noodles according to package, drain.
Put cream cheese and 1/2 pound butter in food processor until smooth. Add 1 cup of sugar until combined. Add sour cream, vanilla, and eggs and process until well mixed. Fold mixture into drained noodles and add the pineapple. Pour mixture into prepared dish. Cover with plastic wrap and refrigerate over night.
Remove from refrigerator about an hour before baking. Preheat oven to 350°F and bake for 50 minutes. Combine pecans, 1/2 cup sugar, and cinnamon and sprinkle on top of kugel. Dot with remaining 2 tablespoons butter and bake another 20 minutes. Serve room temperature
Susan Salzman writes The Urban Baker blog to explore her dedication to good food in the hope of adding beauty to the lives of her family and friends.

Los Angeles


by

Emily Pudalov





Last week, I had two major disappointments. I did not win the ticket lottery to attend Michael Jackson's funeral at the Staples Center and the red velvet doughnut at the Nickel Diner in Downtown...

Read more...

Northern California


by

Amy Ephron





What if your favorite restaurant was in the same state you were in but it was 9 hours away???

We really couldn't take a vacation this summer but we did run off for a week-end to Mendocino (don't...

Read more...

Los Angeles


by

S. Irene Virbila





OK, there's no ocean view: all the better to focus on chef Ray Garcia's cooking. Never heard of him? You will, because this young chef is doing something very interesting at Fig, a restaurant...

Read more...

New York


by

Michael Tucker





I've been in rehearsal this week for a reading we're doing on Friday. It's a fun piece called "Old Jews Telling Jokes" based on the website of the same name. All this is to say that this week I'm...

Read more...