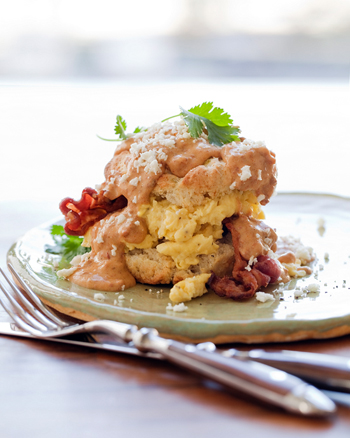 For the Chipotle Gravy:
6 oz pork chorizo
2 chipotles in adobo, minced
2 tablespoons unsalted butter
2 tablespoons all purpose flour
2 cups milk, warmed
In a sauce pan over medium high heat cook the chorizo and chipotles together until cooked, about 5 minutes. Add the butter and stir until melted, add flour and cook 1-2 minutes. Whisk in milk and continue to stir. Bring to a boil so that the gravy will thicken. Serve over biscuits.
Green Chile Parmesan Pepper Buttermilk Biscuits
2 cups all purpose flour
½ teaspoon salt
4 teaspoons baking powder
1/4 teaspoon baking soda
1 teaspoon freshly ground black pepper
4 tablespoons cold unsalted butter, cut into small pieces
¼ cup diced green chiles
¼ cup of Parmesan cubes (¼ inch cubes or chunks)
1 cup cold buttermilk
Preheat oven to 450˚ F. In a large mixing bowl combine all the dry ingredients, whisk or stir to combine. Cut the cold butter into the flour mixture until crumbly. Make a well in the center, place chopped chilies and cheese in the well and pour buttermilk over. Stir until it comes together and makes dough.
Turn the dough out onto lightly floured surface and, with floured hands, give it a quick knead, a few times should do it.
Pat the dough into a 1-inch thickness and cut out biscuits with a 2 1/2" cutter. Keep reshaping and cutting the dough until you have 9 biscuits. Place on a baking sheet lined with parchment or a silpat and place in hot oven till puffed up and golden brown, around 15-18 minutes. Serve warm!
Optional: Throw caution to the wind and sandwich scrambled eggs and bacon inside the biscuit. You probably won't need to eat for 2 days afterwards. And cans of Chipotle in Adobo can be found in Latin markets.
-- Also published on MattBites.com