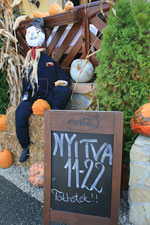 It was pumpkin season in Hungary when I was visiting there in early October. On a ride through the countryside, bright orange pumpkins could be spotted in yards, laying in the warm sunshine, probably waiting to be carved into a jack-o-lantern. Signs at restaurants announced the celebration of pumpkin week. Restaurants in Hungary are very mindful of using local, seasonal ingredients on their menus.
A chalkboard sign outside of Anno Taverna Restaurant in Balatonszárszón, a little village on the south side of Lake Balaton in the Hungarian countryside, announced they were celebrating pumpkins that week. My two traveling partners and I pulled the car into the small parking lot and chose an outdoor table to enjoy the October sunshine while we had lunch.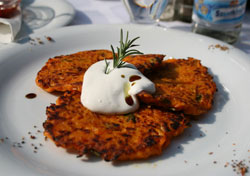 My meal began with a bowl of pork knuckle and bean soup, hot and hardy. Then, a cucumber salad made with the freshest-tasting cucumbers I've ever eaten. Finally, a plate of deep orange pumpkin latkes studded with chewy green pumpkin seeds and flavored with a hint of nutmeg.
Three hefty-sized crunchy rounds were topped with a big dollop of sour cream, a sprig of fresh rosemary and a few drops of greenish brown pumpkin seed oil glistening under the autumn sun. Around the outside edge of the plate was sprinkles of a mixture of dried bits of minced green and red peppers, cracked black and white peppercorns and coarse salt. That plate of food was a beautiful work of art, really. And the latkes, delicious. I tried to recreate those pumpkin pancakes when I returned home. I was very satisfied with the results.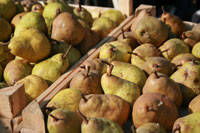 It was the perfect time for a food-lover like me to visit Hungary. Apples, pears, plums, almonds, walnuts and chestnuts were being harvested from the trees. Rose hips were being turned into delicious sauces and syrups. Peppers from gardens were dried and ready to be ground, providing fragrant sweet and hot paprikas for Hungarian cooks to season meats and gravies.
Hungary is heavenly in October.
I tried to recreate those pumpkin pancakes when I returned home. I was very satisfied with the results. This is my recipe.
Pumpkin Patties
1 large egg
1/4 cup sour cream
2 cloves garlic, minced
6 tablespoons all-purpose flour
1/4 teaspoon baking powder
3/4 teaspoon salt
1/4 teaspoon black pepper
1/4 teaspoon paprika
1/8 to 1/4 teaspoon ground nutmeg
6 tablespoons freshly grated Parmesan cheese
2 cups coarsely grated, peeled pumpkin
Canola oil for frying
Sour cream, chopped fresh parsley, for garnish
In a mixing bowl, whisk the egg. Add sour cream and blend. Add minced garlic. Stir in flour, baking powder, salt, black pepper, paprika and nutmeg. Mix well. Stir in grated Parmesan cheese. Stir the grated pumpkin into the batter.
Heat a large non-stick or cast-iron skillet over medium-high heat. Add enough canola oil to generously cover the bottom of the pan. When oil is hot, drop the batter by 1/4-cupfuls and flatten with a spatula to about 3-1/2 inches. Do not crowd the patties in the pan. Cook the pumpkin patties until they are deep golden brown, about 3 to 4 minutes on each side. As the patties are done, transfer them to a paper towel-lined baking sheet and keep warm in a 200-degree oven until all are ready to serve.
At serving time, top each of the hot pumpkin patties with a dollop of sour cream and a sprinkling of chopped parsley. Makes 6 patties.
Sue Doeden is a popular cooking instructor, food writer and integrative nutrition health coach. She is the host of Good Food, Good Life 365 on Lakeland Public Television. Her own hives full of hardworking bees and her love of honey led to the creation of her recently published cookbook, Homemade with Honey.