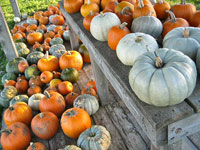 It was a sunny afternoon during the last week of September. I was driving up and down rolling hills and rounding curves as I enjoyed the scenery along a Minnesota county road. I knew it was autumn when I saw a large, can't-miss-it sign that announced Grandpa's Pumpkin Patch. I slowed down and pulled into the driveway, even as I thought to myself this was a place to visit with a carload of young children.
Bright pumpkins in all shapes and sizes were piled in long rows, basking in the September sun. I grabbed one of the big wagons parked near the pumpkins and began filling it up as I strolled through the impressive display. I never saw Grandpa. I wanted to thank him for sorting the pumpkins by size and for having all the little pie pumpkins in a pile by themselves. I wound up with several of those cuties in my wagon.
These edible, orange winter squash are not all created equal. The big, bright, deep-ribbed pumpkins that make the best Jack-o-lanterns don't make the best pie. And they don't make the best Spicy Pumpkin Dip.
For cooking and baking, choose the smaller pumpkins, often referred to as pie pumpkins. Their flesh is deep orange and sweet, with a smooth texture. The larger pumpkins have stringy, watery flesh with little taste.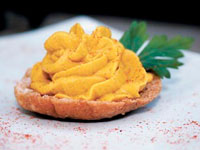 There is more than one way to cook a pumpkin for pureeing. I like to bake it just like I would any other winter squash. I cut it in half lengthwise, scoop out the seeds and strings, and then lay it cut-side down on a foil-lined baking sheet, pour a little water around it and bake it at 350 degrees for about 30 minutes, or until it's tender. Once cool enough to handle, I puree the flesh in my food processor. I often freeze the puree in small portions to use later.
Spicy Pumpkin Dip is a delicious way to take advantage of all that vitamin A pumpkins have to offer. The dip is really a twist on hummus, with garbanzo beans (chickpeas), tahini (sesame paste) and garlic. Cumin and cayenne round out the flavors and give the dip a little kick. You control the heat, though, by deciding how much cayenne to stir into the bowl.
Spicy Pumpkin Dip
3 tablespoons olive oil, divided
1 cup chopped red onion
1 tablespoon chopped garlic
1 tablespoon light brown sugar
1 teaspoon ground cumin
2 tablespoons fresh-squeezed lemon juice
1 (15-ounce) can pumpkin or about 1-1/2 cups of pureed cooked pumpkin
1 (15-ounce) can garbanzo beans, rinsed and drained
3 tablespoons tahini (ground sesame seeds)
1/2 to 1 teaspoon cayenne pepper
Salt to taste
Place 1 tablespoon of olive oil in a large skillet over medium-high heat. When the oil is hot, add the chopped onion. Saute the onion for several minutes, until tender and just beginning to turn brown. Stir in the garlic, brown sugar and cumin. Continue to cook and stir until sugar is dissolved and onions appear caramelized, about 2 or 3 minutes. Remove pan from heat.
Pour remaining 2 tablespoons olive oil and lemon juice in blender or food processor. Add onion mixture, pumpkin and beans. Process until nearly smooth. Add the tahini and continue to process until mixture is smooth.
Transfer dip to a mixing bowl. Stir in cayenne, starting with just 1/2 teaspoon and adding more according to your own taste. Season with salt. Refrigerate for at least a few hours in a tightly sealed container.
-Originally published in the Bemidji Pioneer