Snickers Cookies
by Susan Russo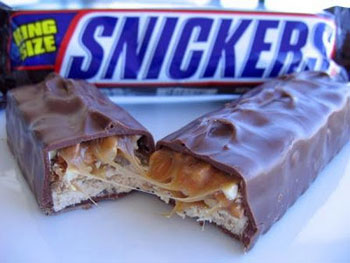 I was a weird kid. I never ate peanut butter and jelly sandwiches. My mother never had to tell me to straighten my room. And I liked Halloween more for the decorations than the candy.

Except for Snickers. I loved Snickers.

Something about the mix of sweet chocolate, sticky caramel, dense peanut butter nougat, and crunchy peanuts made me swoon. I still remember the house at 101 Pinewood Drive in our neighborhood that gave out the king size Snickers bars to every kid who came by on Halloween.

Bam! That big bar would hit the bottom of your plastic pumpkin. Then you'd have to center it, otherwise your pumpkin would lilt for the rest of the night. After you hit that house, it didn't matter how many Dum Dums or Tootsie Rolls you got.
You had scored. I'm not alone in my Snickers love. According to Wikipedia, "Snickers is the best selling candy bar of all time and has annual global sales of US $2 billion."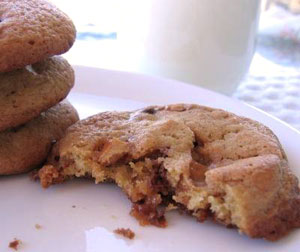 Well, they haven't made any money off of me in the last 15 years or so, which is the last time I had a Snickers bar. That is, until this past Saturday when I made Michelle's Snickers Cookies.

I needed a kid-loving cookie and figured Michelle (a mom of four) would know best. She does. When I took the first bite of a warm Snickers cookie, I audibly sighed.
They're sweet and rich and studded with chewy melted Snickers chunks. It brought me right back to my Wonder Woman costume and to 101 Pinewood Dr.
Snickers Cookies
Makes about 35 cookies.

½ cup sugar
½ cup brown sugar
½ cup butter
½ cup peanut butter
2 eggs
1 teaspoon pure vanilla extract
1 ½ cup flour
½ teaspoon baking powder
½ teaspoon baking soda
¼ teaspoon salt
1 1/2 king size Snickers bars or 9-10 fun size bars, chopped into small pieces

Preheat oven to 375°F. Line two baking sheets with parchment paper.

Combine the first six ingredients, and mix well with a hand mixer.Add the dry ingredients through the salt, and mix until well blended. Stir in Snickers pieces.

Roll small balls of cookie dough in your hands. If the dough sticks to the palms of your hands, run them hands under a little warm water and continue. Place cookies about 2 inches apart since they spread while baking. Makes approximately 35 cookies.

Bake for 11-13 minutes, or until golden brown and slightly puffy. If baking two trays of cookies at the same time, rotate the pans midway through so they bake evenly.
Susan Russo is a free lance food writer in San Diego, California. She publishes stories, recipes, and photos on her cooking blog, <Food Blogga and is a regular contributor to NPR's <Kitchen Window. She is also the author of Recipes Every Man Should Know
and The Encyclopedia of Sandwiches
.
Las Vegas


by

Scott R. Kline





The Nugget Diner in Reno, Nevada represents much of what Reno is all about. From a run down strip near downtown Reno, one enters through the gaudy exterior, which portrays a nugget of gold...

Read more...

Europe


by

Bruce Cormicle





The 3-star Michelin restaurant Mugaritz (rated 3rd in the Top Fifty Restaurants of the World) is high up in hills of Errenteria, Spain twenty minutes outside of San Sebastian. It is...

Read more...

Maine


by

Brenda Athanus





The A-1 diner at 3 Bridge Street in Gardiner, Maine is an old Worcester Streamliner diner car brought to its present location by truck in 1946 and installed on long Erector-like legs to bring it...

Read more...

New York


by

Maia Harari





We'd finally made it all the way to Park Slope, it was less than warm, and I'm pretty sure I had mascara on my forehead from frantically trying to fix my make-up on the subway. You can imagine...

Read more...