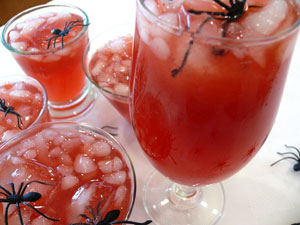 Boo!
I told you I loved Halloween!
And what would a Halloween celebration be without Blood Red Punch? It would be boring, that's what.
Seriously, a Halloween party needs a scary drink. However, if you are a Halloween nut like me, you don't need a party to make a wicked drink.
My kids love this punch anytime but love the ice cube spiders more. I always make a couple trays of these cubes in October and pop them into whatever they are drinking. They love it...and so do I.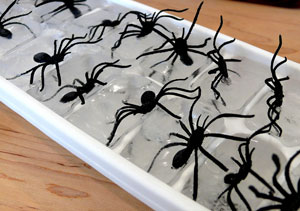 This punch is kid-friendly (alcohol-free) but can be easily transformed into an adult beverage.
The spiders require a little forethought. The day before you want to make this punch you will need to make the spider ice cubes.
Fill an ice tray with water and place washed plastic spiders into each cube. Have the spider coming out of the ice, kind of like 3-D.
Blood Red Punch
Adapted from Williams-Sonoma

3 cups cranberry-raspberry juice blend
3 cups sparkling water
1 cup thawed frozen strawberries and raspberries, pureed
1/2 cup granulated sugar
1 cup of vodka (optional)
Crushed Ice
Spider Ice Cubes

Puree strawberries (or raspberries) with granulated sugar.

In a pitcher or a punch bowl combine cranberry-raspberry juice, sparkling water and pureed fruit mixture.

Place crushed ice in glasses and fill up with punch. Add a couple cubes of the spider ice to each glass.
Cathy is currently in the development stages of her vineyard and winery in the Willamette Valley of Oregon. She is a food writer for Davis Life Magazine and blogs daily about wine, food and everyday living. She lives with her husband and two sons. You can visit her at noblepig.com.