Candy Corn Shortbread Bars
by Joseph Erdos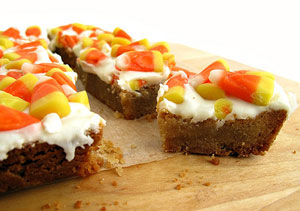 Candy corn—you either love or hate the candy. I used to despise candy corn as a kid. I'd always be disappointed If ever anyone gave me candy corn when I went trick or treating. What, no chocolate? But as an adult I came to appreciate a nibble here and there of candy corn. Maybe it's the melt-in-your-mouth sweetness, but I think Halloween just wouldn't be the same without it—whether you like it or not.

If you happen to have bagfuls of leftover Halloween candy, why not use it all up in these sweet treats? Shortbread makes a perfect base for many cookies and none more so than these bar cookies. They're spread with melted white chocolate and then topped with colorful candy corn. Everyone will love the sugary sweetness—just make sure your family and friends don't eat too much because you don't want them turning into cookie monsters.

The shortbread base for this recipe is the classic combination of butter, flour, and sugar, but in this case brown sugar. This way the bars turn out fudgy almost like blondies. This recipe isn't limited to white chocolate and candy corn, though—use milk or dark chocolate and any of your favorite candies, like M&M's, chopped Kit Kats, or whatever there is. Kids especially will love choosing from among the many options, and decorating the bars with candy.
Candy Corn Shortbread Bars

1 cup (2 sticks) unsalted butter, room temperature, plus 1 tablespoon for pan
3/4 cup light-brown sugar
1 teaspoon salt
1 teaspoon pure vanilla extract
2 cups all-purpose flour
12 ounces white chocolate chips
10 ounces candy corn

Preheat oven to 350 degrees F. Butter an 8-by-8-inch pan, line with parchment and butter again.

In a stand mixer fitted with the paddle attachment, cream butter until fluffy. Add sugar and beat until combined. Mix in vanilla. Add flour, a little at a time, until incorporated. Do not overmix. Turn out dough into the prepared pan. Using a sheet of plastic wrap, press until dough reaches edges and smooth evenly with a spatula before removing wrap. Bake until golden brown, about 25 to 30 minutes. Let cool completely before decorating.

Melt chocolate in a heat-proof bowl set over a pot of simmering water. Spread chocolate over shortbread, smoothing out evenly with a spatula. Scatter over with candy corn. Set in refrigerator to set slightly, about 8 to 10 minutes. Cut into squares.
Yield: 9 or 16 squares.
Joseph Erdos is a New York–based writer and editor, butabove all a gastronomer and oenophile. He shares his passion for foodon his blog, Gastronomer's Guide , which features unique recipes and restaurant reviews among many other musings on the all-encompassing topic of food.
New York


by

Alexis Siemons





OK fine. I'll admit it. I'm the person who studies the menu online before going out to eat. I devour every edible word and let the taste bud anticipation work its magic.

The moment I knew I would...

Read more...

Los Angeles


by

David Latt





To great acclaim, José Andrés recently opened four restaurants (Rojo, Blanco, Saam, & Patisserie) and a bar (Bar Centro) on the ground floor of the SLS Hotel (465 S. La Cienega, Los Angeles, CA 90048;...

Read more...

Oregon


by

Sue Doeden





One of the highlights of my experiences in Portland, Oregon was the dinner I had at the 2010 James Beard award-winning Higgins Restaurant and Bar. The dinner was hosted by the the California...

Read more...

London - British Isles


by

Carolan Nathan





One thing I sadly miss living on the west coast of the USA are the Atlantic sea offerings in all their glorious whiteness and taste. So when I returned to London in September I set out to eat as...

Read more...