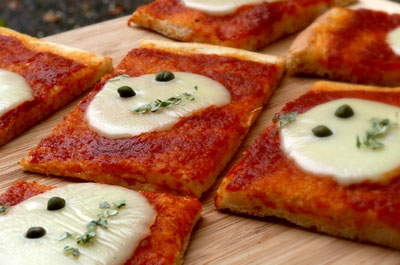 When my kids are having a playdate there often isn't time to whip up a batch of cookies or other type of treat. Since most kids like pizza in some form, this is always a big hit.

The possibilities for themes are endless since you can use any cookie cutter shape to personalize this pizza into any thing you choose. Hearts for Valentine's Day, Christmas trees, candy canes, ghosts, shamrocks, you can even spell your child's name with alphabet cutters. Like I said, the possibilities are endless and always welcomed by the young people in our lives.

To make the alien faces, I used a pumpkin cookie cutter. I used capers for the eyes and basil for the mouth.

My boys and their friends loved it and they always feel special when I make this very simple after-school snack.

Make your kids smile today by making them this simple treat.
Alien Pizza Squares
Cooking Spray
1 lb refrigerated pizza dough
3/4 cup pizza sauce or tomato sauce
8 slices low-moisture mozzarella cheese
1 Tablespoon capers
Fresh or freeze-dried basil

Preheat oven to 475o F. Spray rimmed baking pan with cooking spray. Press and stretch dough evenly into a rectangle shape. Spread sauce evenly over dough, leaving a 1" border around all sides. Bake until underside of dough is golden, about 10-15 minutes.

While pizza is baking, use a pumpkin-shaped cookie cutter (or any cutter you choose) to cut pumpkin shapesfrom cheese. Save cheese scraps for a sandwich.

Place pumpkins on top of hot pizza and bake for 2-5 minutes or just until slightly melted. Place two capers on each piece of cheese for eyes and sprinkle basil for the mouth.

Let stand 5 minutes before slicing.

Watch your kids smile.
Cathy is making wine from her vineyard and winery in the Willamette Valley of Oregon. She is a food writer for Davis Life Magazine and blogs daily about wine, food and everyday living. She lives with her husband and two sons. You can visit her at noblepig.com.