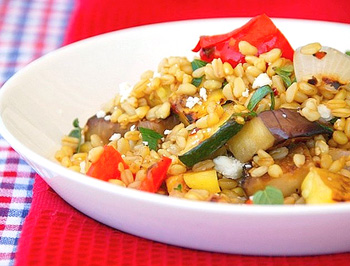 Serves 4

1/2 cup dry farro

Marinade:
1/4 cup olive oil
1/4 cup balsamic vinegar
1/2 teaspoon crushed red pepper flakes
1/4 teaspoon salt

Vegetables:
1 small-medium eggplant, cut into 1/2-inch thick slices
1 red bell pepper, halved
1 medium zucchini, cut into 1/2-inch thick slices
1 medium summer squash, cut into 1/2-inch thick slices
1 large onion, preferably Vidalia, halved

Dressing:
4 teaspoons extra virgin olive oil
2 tablespoons, plus 2 teaspoons white balsamic vinegar (or regular, if you prefer)
2 teaspoons water
2 tablespoons, plus 2 teaspoons lemon juice
1/2 teaspoon red pepper flakes
salt, to taste
1/4 cup mix chopped herbs such as basil, oregano, and parsley

2 tablespoons feta cheese, optional for garnish

Soak farro in cold water for 30 minutes.

Meanwhile, in a large Ziploc bag or tupperware container, add ingredients for marinade and shake well. Add vegetables, and shake until well coated. Marinate for 30-45 minutes.

To make the dressing, simply whisk all ingredients (except herbs) in a small bowl and set aside. Add herbs just before finishing the salad so they stay green and fresh.

Drain the farro. Place in a small pot and cover with 3-4 inches of water. Bring to a boil and cook uncovered at a rolling boil for 20 minutes, or until tender. Cooked farro should be firm and chewy but not hard. Drain and place in a large bowl.

Drain marinated vegetables. Place on a hot grill that has been lightly oiled. Grill vegetables for 5-7 minutes per side on medium-high heat, or until tender and lightly charred. Chop vegetables into 1-inch pieces. Add to the bowl with the cooked farro, then add dressing and fresh herbs and toss until well coated. Sprinkle with feta cheese, if desired.
- Recipe courtesy of Susan Russo