Minty Mushy Peas
by James Moore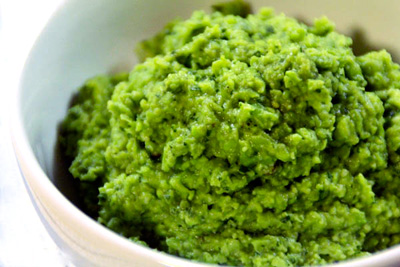 Mushy peas are a traditional side dish to the British classic - Fish & Chips. I was recently in London for the Queen's Jubilee and stayed at the incredibly beautiful Corinthia Hotel.
It is truly one of London's best properties. The hotel's restaurant, The Northall, features "traditional British fare focusing on seasonal produce supplied by artisanal producers from around the British Isles."
Without hesitation, I chose the Deep Fried Haddock in Beer Batter, chips and "proper mushy peas". My version of mushy peas may not be "proper", but they are delicious.
Bright, vibrant green with just a hint of mint, they're great with fish or chicken. Use caution when pulsing with the food processor, you want them coarsely mashed, not pureed.
Minty Mushy English Peas
1/2 cup low-sodium chicken broth
1 pound frozen peas, not thawed
2 cups chopped Boston lettuce or Bibb lettuce
2 tablespoons chopped fresh mint
4 tablespoons unsalted butter
1/2 teaspoon sugar
1 tablespoon fresh lemon juice
Sea Salt and pepper
1. Bring broth, peas, lettuce, mint, butter, sugar, and salt and pepper to taste to simmer in medium saucepan over medium-high heat. Cover and cook until peas are tender, 8 to 10 minutes.
2. Transfer to food processor, add lemon juice, and pulse until coarsely mashed, about ten 1-second pulses Adjust seasonings with salt and pepper and serve.
James Moore has been a cooking enthusiast since childhood and started blogging as a way to share favorite recipes with friends and family. His site, Cook Like James has grown to include restaurants, cookbooks, wines, and favorite places.
Florida


by

Sue Doeden





Outside, the roosters crow. I look at the time display on my cell phone within reach. 4:30. A.M. As hard as I try, I cannot fall back to sleep. The continuous crying sounds of the roosters are...

Read more...

Northern California


by

Laraine Newman





I recently performed Celebrity Autobiography at the Wells Fargo Center For The Arts in Santa Rosa. I didn't know where Santa Rosa was nor did I realize that the Welles Fargo Center was a hip...

Read more...

Mid-Atlantic


by

Scott R. Kline





The Northgate Soda Shop in Greenville, South Carolina proved an elusive target for a burger. But one can never keep a good burger seeker down.

Our trip across South Carolina continued as we...

Read more...

New York


by

David Latt





If you are a foodie visiting New York, you're probably planning on visiting Mario Batali's Eataly where you'll wander the crowded aisles a bit dazed. Glass fronted counters and small eating...

Read more...