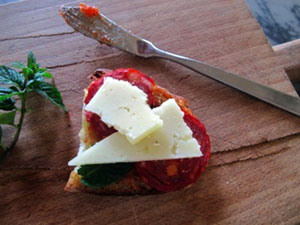 Doesn't sound very fast. Also sounds serious. Manchego y Chorizo Tapa con Membrillo Does it sound any simpler in Spanish?
Let's just call it good. This crunchy, little toast is the perfect pile of salty, meaty and sweet with a jigger of freshness by way of mint leaves. The most difficult, and okay, a bit spendy, part of this tapa, is the tracking down of the fine, Spanish ingredients – Manchego, Chorizo and Membrillo (quince paste – a spicy, sweet, firm jam that is a traditional accompaniment to cheese – oh, and if you don't know what quince is....).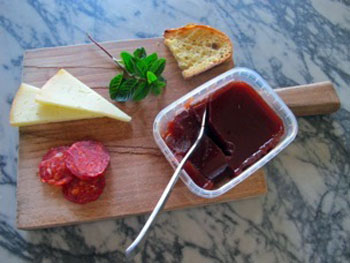 A cheese boutique, a Spanish specialty shop or a Fancy Food Mega Store should carry everything needed. If you live where there are no such markets, consider some click-and-spend shopping with La Espanola.(While there, order some cantimpalitos, Spanish cocktail sausages, for your next soiree – they're awesome.)
So, in 60 seconds, you spread a layer of membrillo on a toast or cracker. Arrange a few mint leaves over the membrillo, top with a couple of thin slices of chorizo (I like Espanola's Cantimpal or Fra' Mani's Chorizo) and top with a piece of Manchego. Repeat until you are satisfied.
Jeanne Kelley is an established food writer, recipe developer and food stylist based in Los Angeles, California. Integrating locally grown produce with globally influenced flavors, Kelley's approach to cooking is both simple, festive and fresh. Her recipes can be found in her latest book is Blue Eggs and Yellow Tomatoes: Recipes from a Modern Kitchen Garden
and on her blog Eat Fresh.