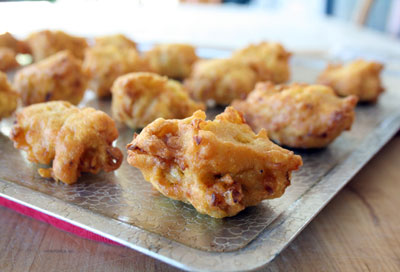 My favorite guy had a birthday last week. We decided to make Mango Rice Pilaf and Pakora for the evening birthday meal. We had never even heard of Pakora until we ate at an Indian Restaurant in Fridley, Minnesota a month or so ago.
When I asked the server how the crunchy dumpling that tasted like well-seasoned onion rings was prepared, he mentioned chickpea flour and water, onions and I think he said chili powder.
When I got home, I checked my copy of "Sherbanoo's Indian Cuisine: Tantalizing Tastes of the Indian Subcontinent," by Sherbanoo Aziz. I found her recipe for Pakora. I knew it would be good. Several years ago, Sherbanoo came to Bemidji from her home in Moorhead to do an Indian cooking class for a small group of people. The food was amazing.
Sherbanoo told me when she moved to the Fargo-Moorhead area from Arlington, Virginia in 1996, not many people in the area were familiar with Indian food. She had a hard time finding the ingredients she needed for her recipes. Now many of those ingredients, such as chickpea flour, often referred to as garbanzo bean flour, are available in mainstream grocery stores. Sherbanoo reminded me that garbanzo bean flour has a low glycemic index making it a good choice for those who must watch their blood sugar levels, it's a good source of protein and it's gluten-free.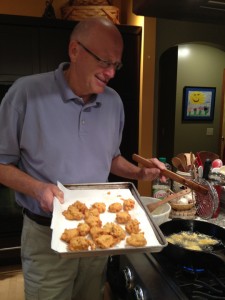 Pakora is similar to a fritter that's fried until golden and crispy on the outside. Sherbanoo told me it is a generic food enjoyed as an appetizer or snack in India. Pakora can be made with a variety of vegetables and seasonings depending on where in India you are eating. In some parts of India the crunchy dumplings are called wada.
My favorite guy and I have been experimenting on our own with pakora. Sherbanoo's recipe is one of our favorites. You can find our own blend of ingredients in the pakora recipe I share in my column this week. It's a little different than Sherbanoo's recipe, but we find it to be perfect for our tastes, with bits of minced jalapeno and cilantro mixed in with sliced onions. Click here for that recipe.
Pakora
2 cups gram flour (most commonly called garbanzo bean flour when you see it in the grocery store)
1 cup water
2 medium onions, finely chopped
1/2 teaspoon ground red hot chili pepper
1/2 teaspoon ground cumin
1/2 teaspoon baking powder
1/2 teaspoon crushed garlic
1/4 teaspoon ground turmeric
1 teaspoon salt
1 1/2 cups cooking oil for frying
In a medium bowl, whisk the flour and water until all the lumps are dissolved. Add the spices and the onions. Mix well. The batter will be of banana fritter consistency.
Pour the oil in a medium frying pan and place on high heat. When heated to 350 to 375 degrees Fahrenheit, lower to medium heat. Gently lower one teaspoon of batter at a time into the oil. Continue until the surface is covered. Fry for about 1/2 minute on each side. Remove and drain excess oil on side of the pan. Place on a plate with a paper towel to drain more oil. Pakora may be made ahead of time and served at room temperature or warmed up in a microwave oven prior to serving. Serve with hot chutney.
Makes 10 3-piece servings. Per serving: (with 1/2 cup oil absorbed) 164 calories, 12 g fat, 9 g carbohydrates, 9 g protein, 2.3 g fiber, 259 mg sodium.
Recipe from Sherbanoo's Indian Cuisine: Tantalizing Tastes of the Indian Subcontinent, by Sherbanoo Aziz. 2001.

Sue Doeden is a popular cooking instructor, food writer and integrative nutrition health coach. She is the host of Good Food, Good Life 365 on Lakeland Public Television. Her own hives full of hardworking bees and her love of honey led to the creation of her recently published cookbook, Homemade with Honey.