Cilantro-Lime Shrimp, Corn and Black Bean Taco Salad
by Cathy Pollak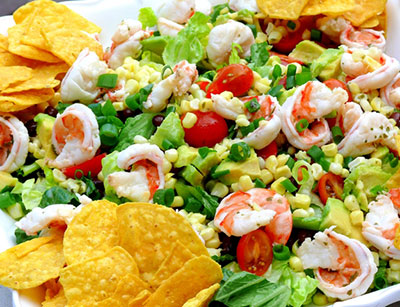 This just screams summer and Mexico! Doesn't a tropical Mexican Riviera vacation sound good about now? A few margaritas, a couple of these salads....I'm in...who wants to go?
My oldest boy loves shrimp, I mean, really loves shrimp. And he loves taco salad. In fact, I'm not sure which one he loves more. So I decided to combine these two loves and make something summery and delicious. I think I succeeded, since he gobbled this up in no time at all. It was an epic gobbling, let me tell you.
I love watching people eat and enjoy the things I make....it's like a weird voyeur thing, but I can't help it.
I first cook the shrimp in this buttery-lime-cilantro sauce. I slice the shrimp lengthwise before cooking because it doubles the amount of shrimp bites in your salad. And, the shrimp cooks a little faster so there is a less chance of overcooking it.
When the shrimp is done I take it out of it's buttery bath and I cook the corn for a few minutes in the same liquid. It adds so much buttery richness to the salad...I can't wait for you to try it!!
Cilantro-Lime Shrimp, Corn and Black Bean Salad
Created by Noble Pig | Serves: 4 entree portions or 6 side-salad portions
Ingredients
1 pound jumbo shrimp, peeled, deveined and tails removed, sliced lengthwise
3 ears corn, shucked and corn sliced off the ear
4 Tablespoons butter
juice of 3 limes
1 Tablespoon cilantro, chopped
1/2 teaspoon salt
1 head romaine lettuce, chopped
1 (15 oz) can black beans, rinsed and drained
3/4 pound grape tomatoes, sliced lengthwise
1 large avocado, diced
2 scallions, chopped
corn tortilla chips (several handfuls)
Dressing
1/4 cup olive oil
2 Tablespoons lime juice
1/2 teaspoon ground cumin
1/4 teaspoon salt
Directions
In a large nonstick skillet, melt butter. Add lime juice, cilantro and salt, stir to incorporate. Add shrimp and cook until opaque, about 2-3 minutes. Using a slotted spoon, remove shrimp from pan onto a plate to cool. Add corn to the same butter mixture, stirring and cooking for about three minutes. leave corn in pan and remove from heat. Set aside.
While the shrimp and corn are cooling, I prepare my lettuce, tomatoes, scallions, avocado and beans, adding them to a large bowl. I also whisk the dressing ingredients and toss them with the salad. I then add the shrimp, corn-butter mixture and a few handfuls of chips and give it one more big toss.
Cathy owns a vineyard and winery in the Willamette Valley of Oregon. She is a food writer for Davis Life Magazine and blogs daily about wine, food and everyday living. She lives with her husband and two sons. You can visit her at noblepig.com.
Chicago


by

Lisa Dinsmore





I love the fact that my husband is from a different part of the country than I am. Before I met and married him, my experience of America was limited to either coast. Now, every year, I get to...

Read more...

Philadelphia


by

Laura Johnson





Just recently my mother asked me to pick up some vanilla ice cream she wanted to serve with a pie she had made. I came home with a gallon of 'Pet' vanilla ice cream. She asked me why, out of all...

Read more...

Los Angeles


by

Jo Stougaard





Since our very first visit to Pizzeria Mozza (Christmas Eve 2006), Peter and I have continuously wished for two things: That Mozza would offer a Pizza-to-go / Delivery service, and that Nancy...

Read more...

New England


by

Lisa Dinsmore





I've probably driven by this unassuming breakfast/lunch spot hundreds of times. It's in my hometown of South Hadley, Massachusetts, located in "The Flats", which was a section of town we drove...

Read more...