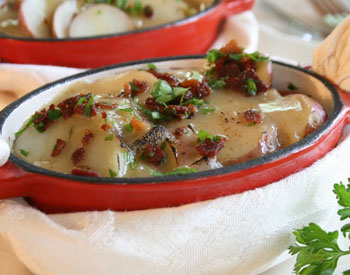 You really don't need to be German to have fun celebrating Oktoberfest. And, you don't need to travel to Munich to enjoy the food we associate with Germany and its festival that lasts several days, providing a gateway for summer to turn to fall. This year, the celebrating begins September 22nd and will run through October 7th.
My dad was German, so I've eaten plenty of roast pork, sauerkraut and huge boiled dumplings that my Hungarian mom became proficient at creating. But when Oktoberfest rolls around, I start thinking about sausage. And sauerkraut. With boiled potatoes. In my column, I shared a recipe for German-Style Potato Bake. Thick slices of red potatoes blanketed with a smooth, creamy beer-spiked sauce, tender bits of onion swimming through it. I've served the potatoes with grilled bratwurst and sauerkraut that's simmered in beer. It's delicious.
I decided I could combine the potatoes with sausage and kraut all in one dish. I used some enamel-coated cast iron individual serving-size casseroles that a friend gave me as a gift quite a long time ago.
I simply layered drained sauerkraut in the bottom of each casserole, chopped smoked turkey sausage next, and potatoes on the top. The creamy, beer-spiked sauce winds through the entire dish. These little casseroles can be built the night before serving and stored in the refrigerator. It doesn't take long for them to heat up in the oven. Some good rye bread is a nice go-along.
If you don't have any kind of baking dishes that are single-serving size, just put all the ingredients together in one large casserole dish.
All I can say is, "This is good. Really good." My husband says it's his new favorite meal. Make it. See what you think.
Prost!
German-Style One-Dish Meal

2 pounds red potatoes, unpeeled
4 slices bacon, chopped
3 tablespoons butter
1 cup chopped onion
2 tablespoons all-purpose flour
1 cup beer
1 cup chicken broth
2 tablespoons spicy brown mustard
1 teaspoon prepared horseradish
¼ teaspoon ground black pepper
14 to 16-ounce package lean smoked turkey sausage
sauerkraut
2 tablespoons finely chopped fresh parsley leaves
Cook potatoes, covered, in a pot of boiling water to cover. Depending on size of potatoes, they will probably need to cook for at least 20 minutes. When potatoes are tender, drain and allow to cool. At this point, potatoes can be covered and refrigerated overnight.
Lightly butter 6 small (individual serving size) oven-safe baking dishes or a shallow 2-quart baking dish. Set aside. Preheat oven to 375 degrees.
If potatoes are large, cut into small cubes or slice small potatoes into ½-inch-thick rounds. Set aside.
Cook bacon until crispy in a large skillet. Transfer cooked bacon to paper towel-lined plate. Reserve bacon fat in pan. You should have about one tablespoon of fat in the pan. Add 3 tablespoons butter to the pan and heat until melted. Add chopped onion and sauté until tender. Remove pan from heat and sprinkle in the flour, stirring until smooth. Return to heat and cook 1 minute, stirring constantly. Remove from heat. Gradually add beer and broth, stirring until mixture is smooth. Return to burner and cook over medium heat, stirring constantly, until mixture is thickened and bubbly. Stir in mustard, horseradish and black pepper.
Put a layer of sauerkraut in the bottom of each baking dish or large casserole dish. Layer sausage pieces over the sauerkraut. Put a small scoop of sauce over those two layers. Arrange potatoes on top. Scoop more sauce over potatoes to cover.
Bake, uncovered, in preheated 375-degree oven for 20 minutes or until thoroughly heated through and bubbling around the edges of the dish.
While potatoes are baking, use your clean fingers to crush the crispy bacon pieces into small bits. In a small bowl, mix the bacon bits with the chopped parsley.
Just before serving, sprinkle bacon-parsley mixture over the top of each casserole. Serve piping hot. Yield: 5 to 6 servings.
Tip from the cook
If you prefer not to use beer in the potatoes, use chicken broth for the entire 2 cups of liquid.
This one-dish meal can be prepared the day before you plan to serve it. The chilled casserole may need a little extra time in the oven to heat through.
If you like caraway, sprinkle a few seeds over the sauerkraut before adding the sausage.
Sue Doeden is a popular cooking instructor, food writer and integrative nutrition health coach. She is the host of Good Food, Good Life 365 on Lakeland Public Television. Her own hives full of hardworking bees and her love of honey led to the creation of her recently published cookbook, Homemade with Honey.