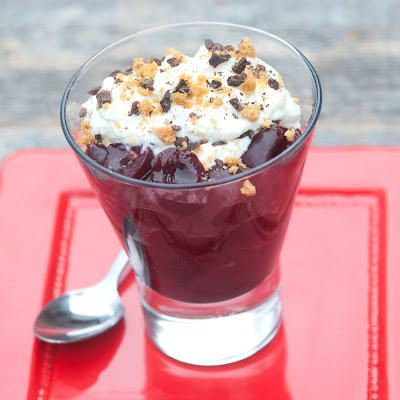 A no-cook summer dessert.
Serves 4
4 cups (1 to 1 1/4 pounds)
3/4 cup whole milk ricotta
2 teaspoon sugar
4 teaspoons milk
1/2 teaspoon almond extract
4 amaretti cookies
1 teaspoon cacao nibs or mini chocolate chips
Thwack the cherries with the flat side of a heavy knife so they flatten. Discard the pits. Divide the cherries among 4 pretty, clear glasses.
In a small bowl, stir together the ricotta, sugar, milk, and almond extract. Spoon pillows of ricotta over the cherries in equal proportions. Crumble one amaretti cookie over each serving and sprinkle with the cacao nibs. Serve immediately.
Tip: You'll find amaretti cookies (Italian macaroons) in larger supermarkets or Italian grocery stores, though you may substitute toasted, chopped almonds if you like.
Dessert Photo ©2012 by Paulette Phlipot
- Recipe courtesy of Susan Russo