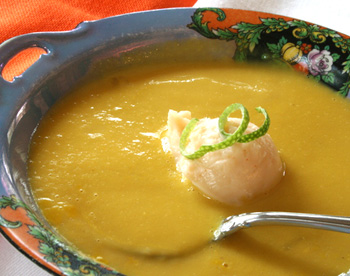 Smooth & Savory Mango Soup
5 medium-sized white onions, chopped
1/2 cup (1 stick) butter
6 very ripe Adolfo (Ataulfo) mangoes, peeled, seed removed, chopped
1 serrano pepper, seeded, minced
4 cups chicken broth
1 teaspoon tamarind paste
1 teaspoon coarse salt
1/2 teaspoon ground white pepper
Lime zest for garnish, if desired
In a soup pot, melt butter. Saute chopped onions in butter until tender but not brown. Add chopped mangoes and minced serrano. Stir and cook for a couple of minutes. Add chicken broth. Bring soup to a simmer. Cover pot and simmer for about 30 minutes. Remove from heat. Stir in tamarind paste, salt and pepper.
Puree soup in blender in several small batches. I always cover the lid of the blender with my kitchen towel before I turn it on, just in case that hot soup spurts out of the top.
To serve, ladle hot soup into serving bowls. Place a small scoop of Coconut Cream Custard on each serving. Garnish with a curl of lime zest, if desired.
Coconut Cream Custard
1 1/2 cups water, divided
8 ounces cornstarch
1 (14-ounce) can coconut milk (not the Lite style)
1/2 cup sugar
1/2 of a 16-ounce can of Coco Casa Coconut Cream
1 teaspoon curry paste
Using a fork, mix cornstarch with 1 cup of water, stirring to dissolve cornstarch. Set aside.
In a medium saucepot, mix coconut milk, sugar and remining 1/2 cup of water. Bring to a boil over medium heat. Remove from heat. Pour cornstarch mixture into the hot liquid, stirring constantly with a fork or wire whisk. When mixture is quite smooth, return to heat and cook, stirring constantly, until the mixture thickens. Remove from heat and stir in cream of coconut and curry paste. Set aside while preparing cooling dish.
Line a 9-inch square baking dish with parchment paper or waxed paper. Pour coconut custard into lined dish. Press a piece of waxed paper over the top of the custard so it is completely sealed. Chill in refrigerator until firm.
Custard can be made the day before and kept in the refrigerator until time to serve the soup.
Sue Doeden