The Sunset Cookbook
by Amy Sherman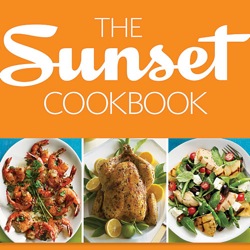 The Sunset Cookbook

I grew up with Sunset magazine, Sunset cookbooks and a philosophy of cooking that was influenced by living in "the West." This is a huge compilation of very contemporary recipes. Sustainable seafood, recipes to make on the grill, tons of salads, Asian inspired dishes and plenty of guacamole.

Bookmarked recipes: Shiraz-soy trip-tip, Frisee, tangerine and sesame salad, Kumquat bon bons

Why?
Because we want to make the most of our bountiful produce and healthy lifestyle

Who?
I don't know if this book will appeal to those not living on the West Coast, but for anyone who is, it will seem like a natural fit.
New York


by

Alison Wonderland Tucker





"I just need to get out of the apartment." I whined to my friend Blaine on the phone.

"It's raining." He replied.

I looked out the window. It was just drizzling.

"I don't care. I need to do...

Read more...

Los Angeles


by

Charles G. Thompson





Is there an uptick in the number of French restaurants in Los Angeles? I certainly hope so. French food = comfort food. At least in the case of Le Saint Amour in Culver City. I haven't kept...

Read more...

Georgia


by

Lou Jane Temple





Mrs. Wilkes has passed away, but her family and staff on Jones Street are carrying on her tradition. You still sit at big round, oak tables with strangers. You still take your own dirty...

Read more...

Los Angeles


by

Carolan Nathan





Shakespeare once wrote, "a place for all reasons and all seasons" and those words are a great intro to Coupa Café, a lively restaurant and wine bar situated on North Canon Drive in Beverly Hills....

Read more...