From the LA Times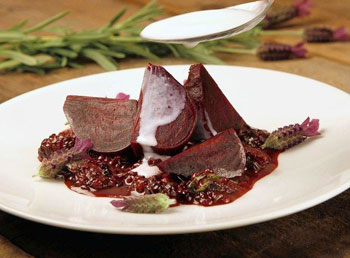 In a world overstuffed with weighty, glossy celebrity chef cookbooks, it would be easy to overlook Alain Passard's newly translated "The Art of Cooking With Vegetables." But it would be a mistake.
Granted, it's a slim book — 100 pages even. There are no tricky Space Age twists — not a gel, juicer or immersion circulator in sight. And perhaps most damning for some, there isn't even a single food photograph.
But take it into your kitchen — and leave it there. This is one of those rare books that might actually change the way you cook.
Passard has always been one to go his own way — several years ago, he famously decided to stop serving meat at his Michelin three-star restaurant l'Arpège, instead emphasizing produce he grew on his own farm.
Meat was simple, he explained. Vegetables are complex. But that doesn't necessarily mean that they're complicated. Indeed, what's so shocking about "Art" is just how much Passard gets from simple techniques and ingredients. Again and again, you'll find that by employing a simple twist, he reveals a wholly unexpected side of an ingredient.