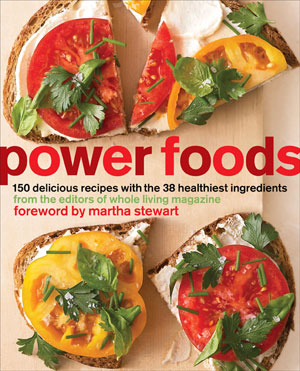 You'd never know by looking at my chubby exterior, but during the week we focus on a variety of healthy meals at home in an effort to balance the overindulgence, tastings, and big dinners that usually fill our weekends. And even if it weren't for this health focus, if anything it's to give my palate a rest from overactivity. But that doesn't mean I enjoy sacrificing flavor because I do not; I need meals that incorporate great tastes as well as make me feel fantastic. When I read that the editors of Whole Living Magazine were compiling their best recipes that feature the healthiest ingredients possible I knew I'd be in for a treat. And Power Foods: 150 Delicious Recipes with the 38 Healthiest Ingredients
doesn't fail.
The book contains recipes that incorporate key ingredients that are not only delicious but good for you — things like berries, tomatoes and nuts. These foods have a tremendous impact on our health but none of that means a thing if you can't find ways to actually prepare them and like them, a key to maintaining a successful diet. Power Foods gives you hundreds of ideas, but a favorite thing for me is the inclusion of the book's Golden Rules, a collection of best practices for shopping and the kitchen.
The book begins as a guide to these foods, providing a visual glossary as well as information on buying, storing and eating these healthy ingredients. From there the book is packed with recipes and so much valuable information. And it covers almost anything you'd be looking for, from breakfast and soups & stews to main dishes and desserts.
Papaya, Endive, and Crabmeat Salad from Power Foods. Serves 4
Matt says: I love the combination of sweet and crunchy with seafood, and this salad hits the spot. I also love how the sweet crabmeat tempers the slight bitter note of endive's flavor. There's no cooking and it's simple to prepare, you'll only need to slice-n-chop a little bit. I probably don't need to mention the health benefits like vitamin C and beta-carotene, right? This salad uses grapeseed oil for its dressing, known for its vitamin E and flavonoids. Score.
1 teaspoon finely grated peeled fresh ginger
3 tablespoons fresh lime juice (from 2 to 3 limes)
2 tablespoons grapeseed oil
coarse salt
1/2 large papaya (Mexican or Solo, about 1 pound), peeled, halved lengthwise, seeds removed, and cut into 1-inch pieces
2 large Belgian endive, halved lengthwise, cored, and cut into matchsticks (about 3 cups)
1/2 English cucumber, very thinly sliced
3/4 cup jumbo lump crabmeat, picked over and rinsed
Whisk together ginger, lime juice, grapeseed oil, and 1/4 teaspoon salt in a large bowl. Add diced papaya, endive, cucumber, and crabmeat; gently toss to combine. Serve immediately.
Reprinted from the book Power Foods from the editors of Whole Living. Copyright © 2010 by the editors of Whole Living.

Matt Armendariz is a writer and photographer who lives in Los Angeles and chronicles his passion for food and travel on his blog MattBites. His latest book is "On a Stick!"