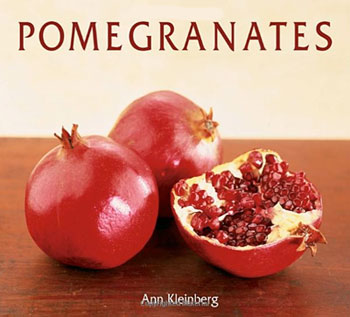 Would you be inclined to buy a cookbook devoted to burgers, fondue or toast? I wouldn't. None of those things are all that challenging to make in the first place. A whole book on grilled cheese sandwiches? Gimme a break.
Cookbooks on single subjects have to be something special to catch my eye. They have to be varied, cover more than just one meal, and they should intrigue me to try something new and way out of the ordinary.

Pomegranates: 70 Celebratory Recipes
is just such a book. Kleinberg's book includes recipes appropriate for breakfast, lunch, dinner and dessert. Not to mention beverages. Pomegranate juice and syrup is all over the place.
No wonder as it is filled with antioxidants, used in many different cuisines and amazingly versatile. You can use the jewel-like seeds or the juice in recipes that are sweet or savory.
I'll admit it, I'm bewitched by pomegranates. They are so beautiful and as wonderful as they are as a fruity garnish or accent I love them even more in marinades, salad dressings and soups.
I have sought out exotic recipes using pomegranates ever since I purchased my first bottle of pomegranate molasses. But if you want to really try using them in all their glorious possibilities, check out this book.
Though the volume is slim, it contains over 60 recipes such as Jeweled Rice with Pistachios, Apricots, and Pomegranates or Stuffed Cornish Game Hen with Orange Pomegranate Glaze. How about Pomegranate poached Quince for dessert?
Yum!
Amy Sherman is a San Francisco–based writer, recipe developer, restaurant reviewer and all around culinary enthusiast. She blogs for Epicurious , Bay Area Bites and Cooking with Amy .