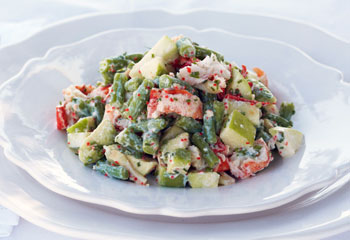 Patricia Wells' "Bistro Cooking" is a staple in our kitchen. The hearty, fresh, robust, easy-to-follow recipes were inspired by the famous bistros in France and, now, we could make them at home.
So, I was incredibly excited when Patricia Wells' Salad as a Meal: Healthy Main-Dish Salads for Every Season
arrived on our doorstep. It was summer. And she was Patricia Wells. And she understands that salad as a meal isn't simply two slips of lettuce and a tomato from the garden. It's salad as a meal!
The salmon gravlax with potato and parmesan galettes. The idea that you could make salmon gravlax at home was incredibly appealing. Okay, it takes three days, but it's really fun and it's completely delicious. And what could be wrong with potato and parmesan galettes?! The lobster salad with green beans, apple, and avocado is divine. (My method, order a really large lobster at a restaurant because you're celebrating something and bring home the leftovers for a salad!) But you can also buy two small lobsters (which aren't that expensive in the summer) and make the whole thing at home.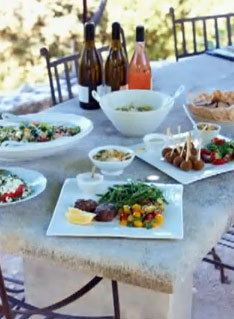 The book is arranged seasonally and keyed to fresh seasonal ingredients which is a lovely way to cook. The spring beef salad with spinach, cherry tomatoes, and asparagus is perfect even for dinner. Served with a baguette and a glass of red wine. The chicken salad with green beans and tahini-lemon yogurt dressing is a great dinner and a healthy modern twist on any mayonnaise alternative. Serve with warm pita and it's perfect for dinner, too.
Some of it's a little too french for us (I'm not sure where you get smoked duck and the idea of making at home is not that appealing, too much fuss for one meal). But the chicken and soba noodles with ginger-peanut sauce is healthy, fabulous, and entirely appealing to even the youngest dinner guests!
The idea of making a deconstructed club sandwich, i.e. no bread, is genius and hearty, especially since her idea of a side to this dish is purple potato chips (white ones, however, will do just fine).
There's something about her books that makes you feel as if you're in her kitchen, in Provence, somehow being as homey and elegant as she is. Or at least, you have a shot. And after a few weeks of experimenting, I can happily say that Patricia Wells' "Salad as a Meal" has become a staple in our kitchen, too!
Lobster Salad with Green Beans, Apple, and Avocado
I first sampled a version of this light and lively salad as a meal at chef Yves Camdeborde's Le Comptoir in Paris's 6th arrondissement. Yves and I participated in the New York marathon in 2006, and I am sure that the strength gained from this protein-rich salad helped me make it to the finish line! This dish has it all: color (the red bits are lobster roe), crunch, and a light touch imparted by a dressing of yogurt and mustard.
4 SERVINGS
EQUIPMENT: A 5- QUART PASTA POT FITTED WITH A COLANDER; 4 CHILLED LARGE DINNER PLATES.
3 tablespoons coarse sea salt
10 ounces slim haricots verts (green beans), trimmed at both ends and cut into 1/2- inch pieces (2 cups)
1 cup Greek-style yogurt
1 tablespoon imported French mustard
1/4 teaspoon fine sea salt
1/4 cup minced fresh chives
1 Granny Smith apple, cored, and cut into 1/4- inch cubes (do not peel)
1 large ripe avocado, halved, pitted, peeled, and cut into 1/4- inch cubes
1 pound (2 cups) cooked lobster meat, cut into bite- sized pieces
1. Prepare a large bowl of ice water.
2. Fill the pasta pot with 3 quarts of water and bring it to a rolling boil over high heat. Add the coarse salt and the beans, and blanch until crisp- tender, 3 to 4 minutes. (Cooking time will vary according to the size and tenderness of the beans.) Immediately remove the colander from the water, letting the water drain from the beans. Plunge the beans into the ice water so they cool down as quickly as possible. (The beans will cool in 1 to 2 minutes. If you leave them longer, they will become soggy and begin to lose flavor.) Drain the beans and wrap them in a thick kitchen towel to dry. (Store the cooked beans in the refrigerator for up to 4 hours.)
3. In a large, shallow bowl, combine the yogurt, mustard, and fine salt and whisk to blend. Taste for seasoning. Add the green beans, chives, apple, avocado, and lobster. Toss to coat. Arrange on the plates and serve.
WINE SUGGESTION: A fine Chardonnay is in order here, such as a dependable Burgundy, like the well- priced and well- made Viré Clessé from the Cave de Viré, particularly their Cuvée Les Acacias, with its hints of fresh apples and honey.
Recipe reprinted with permission from Salad as a Meal: Healthy Main-Dish Salads for Every Season
. © 2011 by Patricia Wells Ltd. All rights reserved. Published by HarperCollins. Photographs by Jeff Kauck.