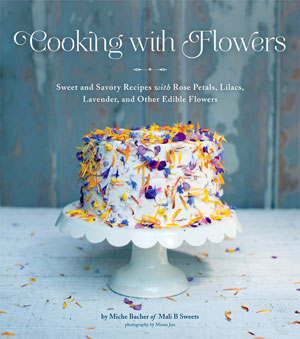 It's not that often that a cookbook surprises me, dare I say, intrigues me. Yet, that is exactly what Miche Bacher's book Cooking with Flowers
has done.
Living in Southern California, I've become accustomed to seeing edible flowers at farmers markets, particularly marigolds, nasturtiums, pansies, and herb flowers. While I've eaten them many times, most often sprinkled in spring or summertime salads, I've never realized their culinary potential. Thankfully, for me (and you), Miche Bacher has.
An herbalist, chef, and founder of Mali B Sweets, a confectionery studio in Greenport New York, Bacher shares her unique understanding and appreciation of flowers' culinary and medicinal qualities in her 100+ recipes. You'll find numerous tips for gathering, cleaning, and preparing edible flowers and well as how to infuse vinegars, vodkas, frostings, and more with your favorite blossoms.
Recipes are divided by flower type such as dandelions, geraniums, hibiscus, roses, and violets and are accompanied by stunning full-color photographs by Miana Jun. (Indeed, it's so beautiful it has become a bona fide coffee table book in my home.)
Bacher describes flowers' varying flavors — chive blossoms and nasturtiums are spicy while calendula and chamomile are earthy. Others vary dramatically in flavor such as roses that can be sweet or spicy and geraniums that can taste like mint, orange, or lime. While most recipes have short ingredient lists, it's important to realize that many rely upon syrups, jams, and creams that need to be made prior to beginning the main recipe (hence lengthening the preparation time). Therefore, carefully read through each recipe before jumping in to ensure a timely outcome.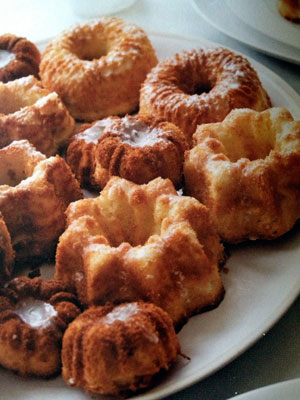 Not surprisingly, the majority of recipes are sweet— there are several shortbread, cookie, and ice cream recipes. You'll find a variety of approachable baked goods such as Almond Elderflower Pound Cake, Chocolate Lavender Biscotti, and Pistachio Rose Shortbread alongside unexpected confections such as Oven-Baked Doughnuts with Lilac Cream Filling, Elderflower Marshmallows, and Hollyhock Cream Puffs.
Perhaps most appealing are Bacher's savory recipes, namely her Potato Salad with Violet Vinaigrette, Mango Orchid Sticky Rice, Corn and Black Beans with Nasturtiums, and Gouda Cheddar Daylily Biscuits.
Then there are some recipes that make you think, Really? And if you listen closely, you might just hear Bacher whispering, Yes! I promise, it's delicious! Like her Goat Cheese Nasturium Ice Cream that she recommends topping with crunchy bacon pieces or caramelized onions or her mammoth Dandelion Cookies that she assures will become a permanent fixture of your picnics after just one bite.
Whether you've already explored cooking and baking with flowers or have never even considered eating a blossom, you can trust Miche Bacher and Cooking with Flowers to plant seeds of culinary delight in your kitchen.
Susan Russo is a free lance food writer in San Diego, California. She publishes stories, recipes, and photos on her cooking blog, <Food Blogga and is a regular contributor to NPR's <Kitchen Window. She is also the author of  Recipes Every Man Should Know
and The Encyclopedia of Sandwiches
.