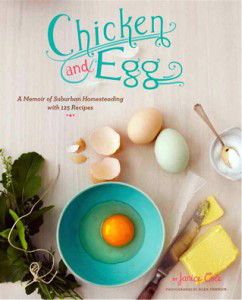 It doesn't seem that long ago that I visited with Janice Cole at an International Association of Culinary Professionals (IACP) conference when she told me she was working on a cookbook. She explained that this book would not be just a collection of recipes. It would also tell the story about her experiences during her first year of raising her own hens. I was intrigued. I had no idea Janice Cole had chickens. She lived in the city, for heaven's sake, in a suburb of St. Paul, Minnesota. Yet she was raising chickens in her back yard.
Now, I have the just-published book, "Chicken and Egg: A Memoir of Suburban Homesteading with 125 Recipes
," by Janice Cole. It's like a good novel that you just can't put down once you start reading. Cole's book holds nine chapters, following the seasons of the year, broken down by early spring, mid-spring, summer, late summer all the way through late winter. The veteran food writer and editor, cooking instructor and recipe developer begins each chapter with a story relating her experiences as an owner of hens. Cole's charming stories make me smile, and sometimes chuckle out loud as I read about Roxanne, the big and bossy Buff Orpington, cuddly Cleo and rebellious Lulu, both Araucana/Ameraucanas. It's just plain fun to read. And, if you have thoughts of having your own little chicken coop in your backyard, you'll appreciate the helpful hints and tips Cole shares that can help you get started with your own chicks, or decide whether or not it's something you really want to do.
Another nice thing about the way the book is divided is that it helped me decide which of the delicious-sounding recipes to try first. I went to the Late Winter chapter, narrowing down the many possibilities. I have several sticky tabs marking pages throughout the book with recipes I can't wait to try.
I've made the Chipotle-Spiced Three-Bean Chili for friends. It took little time to prepare and it brought rave reviews from everyone around the dinner table. I also couldn't resist the recipe for Orange Shortbread Bites. For one thing, I love shortbread. And for another, the organic oranges I've been getting at my local food co-op have been so juicy and sweet, I knew their juice and grated zest along with yolks from local chickens would make these sandwich cookies outstanding. I was right.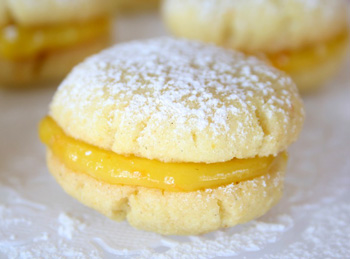 Sweet and tart orange curd is not difficult to make. My mouth is watering right now as I think about the crunchy, melt-in-the-mouth little cookies sandwiching the bright-tasting curd made with freshly squeezed orange juice. The addition of ground cardamom to the cookies is something I've never thought to mix into shortbread dough. It adds just a hint of peppery spice that pairs nicely with the orange flavor.
"Chicken and Egg: A Memoir of Suburban Homesteading with 125 Recipes" is one of those cookbooks that will be my go-to when I don't know what to make for supper or when I want to make something deliciously sweet but don't want to take a lot of time doing it. As long as I have chicken in my freezer and eggs in my refrigerator, I've got a good chance of finding the perfect recipe inside the cover of Cole's book to fill my needs.
Meet Janice Cole's feisty little hens at her blog, three swingin' chicks.
Orange Shortbread Bites
(from "Chicken and Egg: A Memoir of Suburban Homesteading with 125 Recipes," by Janice Cole. Chronicle Books. 2011.)
Shortbread:
1/2 cup (1 stick) unsalted butter, softened and cut up
1½ teaspoons grated orange zest
3/4 cup granulated sugar
2 egg yolks
1¼ cup all-purpose flour
2 tablespoons cornstarch
1/2 teaspoon ground cardamom
1/4 teaspoon salt
Orange Curd Filling:
1/4 cup fresh orange juice
1/4 cup granulated sugar
3 egg yolks
Pinch of salt
2 teaspoons grated orange zest
2 tablespoons unsalted butter
Powdered sugar for sprinkling
To make the shortbread: Preheat the oven to 375 degrees. Line two baking sheets with parchment paper. Beat the butter and orange zest in a large bowl with an electric mixer at low speed for 1 minute. Add the granulated sugar and beat for an additional minute. Add the egg yolks and beat until blended.
Whisk together the flour, cornstarch, cardamom and salt in a small bowl. With the mixer on low, slowly beat the flour mixture into the dough. Shape into a flat disk, cover, and refrigerate for 1 hour or until firm.
Roll 1 teaspoon of dough into a 3/4- to 1-inch ball and place on a baking sheet. Repeat with the remaining dough to make 40 cookies. Press each ball, flattening it slightly, until 1 1/4 inches in diameter.
Bake the cookies for 8 to 10 minutes or until golden brown on the bottom and along the edges. Transfer to a wire rack and cool.
To make the filling: Whisk the orange juice, granulated sugar, egg yolks and salt together in s small bowl until blended. Whisk in the orange zest. Melt the butter in a small saucepan and slowly pour into the orange juice mixture, whisking constantly. Pour the orange juice mixture back into the same saucepan and cook over medium heat, whisking constantly, until thickened and bubbles just begin to form on the outside edge. Do not let the orange curd come to a full boil, or the mixture may curdle. Pour into a clean small bowl. Cover and refrigerate for 1 hour or until cooled.
To assemble the cookies, spoon a generous teaspoon of orange curd onto the flat side of a cookie. Repeat until you've covered half of the cookies. Top with the remaining cookies and gently press together. Store in the refrigerator until ready to serve. Sprinkle the tops with the powdered sugar before serving. Makes 20 sandwich cookies and 1/2 cup of curd.
Sue Doeden is a popular cooking instructor, food writer and integrative nutrition health coach. She is the host of Good Food, Good Life 365 on Lakeland Public Television. Her own hives full of hardworking bees and her love of honey led to the creation of her recently published cookbook, Homemade with Honey.